Category: 3dfx
Date: 13/01/2017
Author: Giacomo Usiello

Voodoo5 and Windows 10
Oh yes, the 3dfx video card Voodoo5 5500 is natively supported by latest Microsoft Windows 10 Operative System.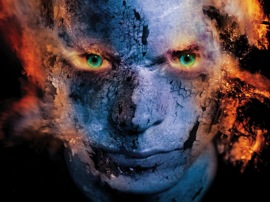 3dfx Voodoo5 marketing image
Obviously, because our VSA-100 based video card has been launched by 3dfx on 2000 while Windows 10 has been released by Microsoft on 2015, the compatibility between the 3dfx hardware and the Microsoft software is on a basic level only, but it's however enough to run the OS and several apps including the historical and well-known synthetic benchmark 3DMark 2000 from Futuremark.
This evidence originates from an experimental verification done by jix-reggio, 3dfx enthusiast man as well as skilled member of 3dfxzone.it WorldWide Community, that, using a hardware configuration equipped with a Voodoo5 5500 64MB PCI graphics card, has successfully installed at first Microsoft Windows 7 @ 32-bit and then has carried out, again with success, the upgrade to Microsoft Windows 10 @ 32-bit (version 1607).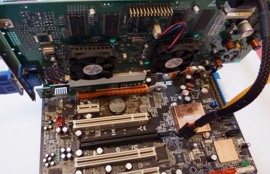 Testing system including 3dfx Voodoo5 [1/2]
On hardware side, the testing platform is based on a motherboard ASUS P5W DH Deluxe, featuring northbridge Intel 975X and southbridge Intel ICH7R, and on an Intel Core 2 Duo processor E7500, working at overclocked frequency of 3.3GHz. Furthermore the hardware configuration assembled by jix-reggio includes also 4GB of Crucial Ballistix DDR2-800 SDRAM, configured with timings equal to 5-5-5-18 (CL-RCD-RP-RAS), and a 7200RPM HDD.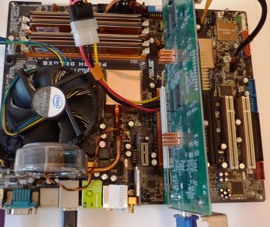 Testing system including 3dfx Voodoo5 [2/2]
3dfx Voodoo5 card is connected to PCI-Express x16 slot of the motherboard P5W DH Deluxe through a PCIe to PCI bridge board - equipped with a chip PLX 8112 1X - that converts the PCI Express slot into a legacy PCI slot.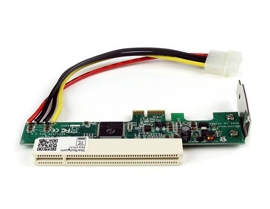 An PCIe to PCI adapter
This bridge makes available a PCI slot with a 32-bit bus natively working at 33MHz. In our case, however, the bus frequency has been raised until 38MHz and the PCIe bus frequency has been configured at 115MHz via BIOS, while 3dfx Voodoo5 card was running at reference frequency of 166MHz.