Category: 3dfx
Date: 13/01/2017
Author: Giacomo Usiello

3DMark 2000 and video report
On software side, during upgrade from Windows 7, Windows 10 has searched best driver for 3dfx Voodoo5 graphics card. But, because the hardware manufacturer - 3dfx in this case - didn't provide Windows 10 device drivers due to clear reasons, the OS has loaded the Microsoft Basic Display Adapter. According to developer's official description, this one is a software that's built into Windows and provides basic display and graphics capabilities when driver from the hardware manufacturer isn't installed.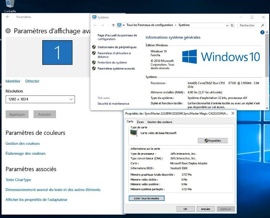 System information displayed by Windows 10
Microsoft Basic Display Adapter has allowed to set the video resolution to 1280 x 1024 pixels for Windows 10 desktop as well as apply Aero Glass effects like transparency, enjoy 2D features in general, and execute several applications including system information and testing tools like respectively AIDA64 and 3DMark 2000.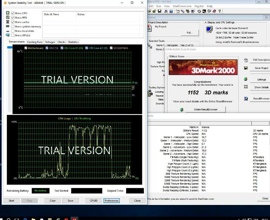 3DMark 2000 final score
Focusing on 3DMark 2000, this benchmark has been succesfully performed - more in detail, all the tests have been completed including Bump Mapping (Environment) - getting a final score of 1152 3D marks with 1024 x 768 pixel video resolution, 32-bit color depth, 32-bit textures, 24-bit Z-Buffer, triple buffering, and CPU optimization for the Intel Pentium III processor.
Surely, on the one hand, this score is not among best ever scores measured through 3DMark 2000 as testing software to get performances of a video card 3dfx Voodoo5 5500.
But, on the other hand, it's a good and wise approach do not forget jix-reggio - that we thank again for its long-date passion and for this one contribution - was able to launch 3DMark 2000 and run its tests with a 3dfx Voodoo5 5500 video card connected to a PCI-Express x16 slot via bridge and configured on Windows 10 with a generic video driver. All this already looks as a more than good result. Are you agree?

Useful Links