Con il comunicato stampa di seguito allegato, Corsair ha presentato al grande pubblico il nuovo flash drive 16GB Flash Voyager GT USB 2.0. In accordo al produttore, si tratta di un dispositivo ad alte prestazioni, in grado di trasferire i dati ad una velocità che è circa quattro volte superiore a quella tipicamente esibita dalle device omologhe che utilizzano il bus USB 2.0.
Alla base di questo risultato vi sono, secondo Corsair, due elementi: la tecnologia proprietaria con cui viene gestita l'interazione del drive con le porte USB da un lato, e la selezione manuale dei chip NAND con cui il 16GB Flash Voyager GT USB 2.0 viene costruito dall'altro. Il valore del MSRP del drive è pari a $169.99.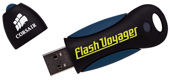 [Immagine ad alta risoluzione]

Fremont, CA, February 28th, 2008 – Corsair www.corsair.com, a worldwide leader in high performance computer and flash memory products, announced a new 16GB high performance "GT" Flash Voyager USB 2.0 drive. The new Corsair 16GB GT Flash Voyager USB drive will be debuted at the CeBIT 2008 Show next week in Hanover, Germany on Corsair's stand (Booth 40 in Hall 21).
High Performance USB Solutions for Transporting & Backing-up Critical Data
The new Flash Voyager GT USB drive provides data transfer rates that are up to 4X faster than standard USB 2.0 drives. Whether transporting office files, pictures or even full-length movies, you can "store-n-go" faster with the Corsair GT USB line. The drive has been optimized to take full advantage of its advanced flash controller technology as well as the screened and hand-selected NAND flash chips.
Performance data shows:
| Capacity | 20 office files (1.06MB) | 60 pictures (279MB) | One movie (1.63GB) |
| --- | --- | --- | --- |
| Flash Voyager GT | Less than 2 seconds | 24 seconds | 98 seconds |
| Average USB | 5 seconds | 70 seconds | 358 seconds |
Corsair 16GB GT USB Drive Features:
Maximum durability – proprietary all-rubber housing
Drive integrity – water resistant and shock resistant
Data security – TrueCrypt encryption software offering AES 256-bit encryption
User warranty – 10 years with on-demand customer support
The new 16GB Flash Voyager GT utilizes Corsair's proprietary water and shock resistant all-rubber casing, meaning that users with busy and active lifestyles can be confident that their data is secure and protected from damage.
Corsair 16GB GT USB drives are immediately available:
Flash Voyager 16GB GT ~ $169.99 USD MSRP
"People expect Corsair to deliver the highest performing products," said Jack Peterson, VP of Corporate Marketing at Corsair. "That's why our latest Flash Voyager GT offers both higher speeds and higher capacities than standard USB drives, making them ideal for discerning customers," added Peterson.

Corsair's 16GB Flash Voyager GT USB drive is available through Corsair's authorized distributors and resellers world-wide. The drive is bundled with a lanyard, security software preloaded, and a USB extension cable. Corsair flash products are backed by a 10-year Limited Warranty. Complete customer support via telephone, email, forum and TS Xpress is also available. For more information on the Corsair USB drives, please visit www.corsair.com.





Source: Corsair Press Release
Links