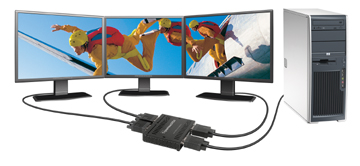 Montreal, Canada, 2 Marzo 2006 - Matrox Graphics, Inc., società leader nella produzione di soluzioni grafiche professionali, è lieta di annunciare il nuovo TripleHead2Go, innovativo box dalle dimensioni di un palmare che offre all'utente l'esclusiva possibilità di aggiungere tre monitor da 19" - per una risoluzione complessiva di fino a 3840x1024 e un'incredibile diagonale totale di 45" - a un gran numero di workstation, sistemi gaming e laptop che supportano soltanto uscita a monitor singolo.
"La possibilità di visualizzare applicazioni 3D e animazioni pienamente accelerate su tre schermi può rappresentare un vantaggio enorme per molti utenti di workstation professionali", afferma Dan Wood, VP Technical Marketing di Matrox Graphics Inc. "Inoltre, per gli appassionati di game la possibilità di giocare su tre schermi offre un coinvolgimento totale in quanto viene abilitata la visione periferica dell'ambiente di gioco come se lo si stesse guardando con una camera grandangolare, raggiungendo così nuovi livelli di divertimento."
Basandosi sul successo del premiato accessorio DualHead2Go, Matrox con TripleHead2Go consolida un'innovativa categoria di prodotti hardware in corso di brevetto, presentata sul mercato come Graphics eXpansion Modules (GXMs). I GXMs non sono acceleratori grafici bensì box esterni che vengono collegati al computer tramite il cavo VGA standard. Il chip grafico del sistema viene utilizzato per tutto il rendering delle applicazioni 2D, 3D e video mentre ai dispositivi GXM è affidato il compito di aggiungere la funzionalità multi-monitor.
Per quanto riguarda il target di utilizzo, Matrox TripleHead2Go si dimostra una soluzione esclusiva nell'area professionale. Infatti, in settori come Mechanical CAD, Visualization, Digital Content Creation e Animation rende possibile aggiornare alla funzionalità TripleHead le workstation certificate per applicazioni mission-critical in modo da abilitarle all'esperienza Surround Design senza dover aprire il case del PC od installare una nuova scheda grafica. TripleHead2Go supporta il desktop di Microsoft Windows fino a risoluzione 3840x1024 attraverso tre schermi con piena accelerazione su tutti gli schermi.
Sul lato entertainment, TripleHead2Go abilita la funzionalità Surround Gaming permettendo di espandere i giochi 3D supportati attraverso tre schermi. Al momento del lancio, TripleHead2Go supporta oltre 150 titoli popolari, fra cui: id Software's Quake 4, UbiSoft's Brother's in Arms: Earned in Blood, Microsoft's Age of Empires III, 10tacle studios AG's GTR, Microsoft's Flight Simulator 2004: A Century of Flight e molti altri. Matrox terrà aggiornato un elenco dei titoli supportati all'indirizzo www.matrox.com/graphics/triplehead2go. TripleHead2Go supporta il gaming a risoluzioni 3840x1024, 3072x768, 2400x600 e 1920x480. I frame rate variano con le risoluzioni e dipendono dalla GPU del sistema.
System Compatibilità
TripleHead2Go include il supporto per Microsoft Windows 2000 e Windows XP ed è compatibile con molti PC, desktop e laptop, di classe professional ed enthusiast equipaggiati con determinati chipset e schede add-ib NVIDIA e ATI. Le risoluzioni massime supportate possono variare a seconda della versione di GPU, visitare www.matrox.com/graphics/triplehead2go per maggiori dettagli.
Prezzo e disponibilità
TripleHead2Go sarà introdotto sul mercato ad Aprile 2006 ad un prezzo suggerito dal costruttore di € 319 (Iva inclusa). Quest'innovativo dispositivo sarà disponibile presso i rivenditori autorizzati. Informazioni presso l'ufficio Italiano di Matrox Graphics Inc.

Building on the momentum of the award-winning DualHead2Go, the new TripleHead2Go is a palm-sized box which uniquely allows you to add three 19" monitors with a combined resolution of up to 3840x1024 and an incredible 45" of total diagonal to many workstations, gaming systems and laptops - even if those systems only support a single display output. TripleHead2Go's patent-pending technology is ideal for upgrading certified, mission-critical workstations to the productivity benefit of three screens of visualization. The TripleHead2Go also enables Surround Gaming; playing video games across three screens for an immersive experience fully engaging your peripheral vision.

Matrox Graphics eXpansion Modules
Building on its' innovation of high-performance multi-display add-in boards, Matrox has developed Graphics eXpansion Modules (GXMs), a new line of patent-pending technology that allows you to add multi-display support to your system via external connectivity. The advantages of such an approach include an unprecedented range of compatibility, tremendous flexibility and portability, and the removal of the need to open your system and install display drivers to add multi-display compatibility.

Your GXM appears to your system as a single, very wide display, and reports resolution via the standard EDID structure. It connects to your computer using your standard analog RGB connector. These palm-sized boxes build on the graphics hardware already present in your system, and won't reduce the image quality or speed of your system.

The Matrox GXM family is currently comprised of the award-winning DualHead2Go and the new TripleHead2Go.





Source: Matrox Press Release
Links


Tags: matrox | modulo | triplehead2go