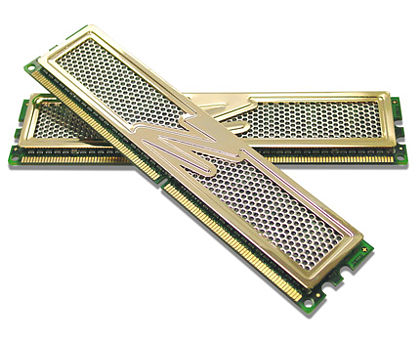 Sunnyvale, CA—February 21, 2006—OCZ Technology Group, a worldwide leader in innovative, ultra-high performance and high reliability memory, today announced the release of the PC2-8000 Gold XTC DDR2 Series designed to run 1GHz+ speeds to deliver optimal memory performance on the latest Intel platforms. The launch of the new OCZ Gold DDR2-1000 solution will allow all users to achieve the greatest range of memory bandwidth, consequently enabling a superior computer gaming experience and enhanced overall system performance with all applications. OCZ will showcase the PC2-8000 Gold XTC series at CeBIT 2006 in Hannover, Germany to accompany the next generation platform releases that take place there annually.
The PC2-8000 Gold XTC product line was developed to meet the demand for faster and more reliable memory for the incoming surge of new platforms this spring. As DDR2 shifts from a technology of the future to a solution of the present, OCZ is committed to continually offering state-of-the-art DDR2 products as they are demanded. Today's PC gamers require the fastest speeds and highest bandwidth rates as well as minimal power consumption that DDR2 technology can provide. The new PC2-8000 Gold memory solution is ideal for the demanding computing environments of gamers, 3D designers, and all users that push their systems by frequently multitasking desktop applications.
"The simple fact that we can offer a DDR2-1000 solution is a true milestone in memory technology and shows our commitment to being the market leader," commented Dr. Michael Schuette, VP of Technology Development at OCZ Technology. "Innovation is moving faster and faster in the platform sector and requires constant progression of our product lines. Because OCZ is prepared to offer 1GHz speeds, consumers can truly benefit from the performance rewards of the latest platforms."
In light of CeBIT and the numerous technological innovations that are displayed, OCZ will present the new PC2-8000 Gold XTC at their exhibit in Hall 20, Stand D05.
"The demand for ultra high speed DDR2 solutions is fueled by both the introduction of next generation platforms and the ever increasing computing demands put on systems by serious Gamers and Enthusiasts," stated Alex Mei, VP of Marketing, OCZ Technology. "OCZ is excited to showcase our new PC2-8000 Gold XTC Series, which will offer gamers the preeminent DDR2 solution, at the upcoming CeBIT show."
As part of the award-winning Gold XTC series, the new PC2-8000 Gold features the innovative OCZ XTC (Xtreme Thermal Convection) Heatspreaders. The unique design used in the XTC heatspreaders optimizes the thermal management of memory modules by promoting greater airflow than conventional heatspreader designs.
The PC2-8000 Gold XTC Series will be offered in 512MB and 1GB (1024MB) modules, as well as 1GB (2x512) and 2GB (2x1024) dual channel kits. The modules are rated to run at 1000MHz (DDR2-1000) at timings of 5-6-6-15. All OCZ Technology memory is back by an industry leading Lifetime Warranty and direct Technical Support.



Source: OCZ Technology Group Press Release
Links
Tags: ddr2 | gold | ocz | pc2-8000 | ram | top