PARSIPPANY, N.J. – FEBRUARY 10, 2006 – PNY Technologies, Inc. today announced the latest in its line of high definition graphics-to-video solutions, the NVIDIA Quadro FX 4500 SDI, is available now for shipping. Adopted by major television networks and film companies, NVIDIA Quadro SDI solutions have been integrated with numerous broadcast and video applications from industry leaders to enable high definition live-to-air 3D graphics, broadcast news, traffic and weather graphics, 2k digital film playback and digital intermediate uses.

"PNY and NVIDIA are delivering SDI graphics solutions that provide customers a smooth transition to HD broadcast capabilities," said Jeff Medeiros, business development manager, PNY Technologies. "The NVIDIA Quadro FX 4500 SDI features both standard and high definition output, a 512MB frame buffer and dual link SDI, which integrates exceptionally well into our clients applications, serving their production and real-time 3D broadcast needs."

"The NVIDIA Quadro SDI-based solutions can be found at a number of leading broadcast networks around the world, such as CNBC and the BBC," said Jeff Brown, general manager for NVIDIA professional products. "The NVIDIA Quadro FX 4500 SDI is already being adopted by a number of these customers for their next generation HD/SDI platforms."

Designed especially for integration into HD broadcast and film industry solutions, the NVIDIA Quadro FX 4500 SDI delivers uncompressed 8-, 10- and 12-bit SDI from programmable graphics to provide real-time HD-SDI output. NVIDIA has developed a plug-in for use with Adobe After Effects 7.0, which combines OpenGL accelerated real-time previews with exceptional SDI graphics-to-video output display quality on broadcast monitors.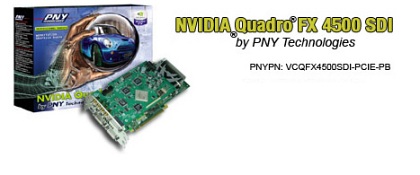 Source: PNY Press Release
Links


Tags: fx | nvidia | pny | quadro | sd | tecnologia