Il publisher Bethesda ha pubblicato una preview di Thieves Guild, il primo DLC del 2016 dedicato al game The Elder Scrolls Online: Tamriel Unlimited, ben noto MMORPG on line fantasy appartenente alla serie di videogame The Elder Scrolls sviluppati da ZeniMax Online Studios.
L'anteprima include sia una descrizione delle caratteristiche e dei contenuti della espansione che alcuni asset per i media coincidenti con un teaser trailer e una immagine dedicati a Thieves Guild.
In accordo al post di Bethesda, in Thieves Guild la gilda dei ladri di Abah's Landing, un'organizzazione di borseggiatori, ladri e maestri delle ombre, è minacciata da un gruppo di mercenari, noti come "Iron Wheel", che non si fermerà davanti a nulla per consegnare la gilda alla giustizia.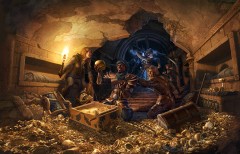 [Immagine ad alta risoluzione]

Ed è in questo scenario che i player hanno la possibilità di giocare nei panni di una recluta della gilda che si muoverà sui tetti, ruberà e recupererà tesori perduti per difendere e, nei limiti del possibile, accrescere la reputazione dell'organizzazione di cui fa parte.

Finora Bethesda non ha ufficializzato alcune informazioni di primo piano in relazione al DLC Thieves Guild di The Elder Scrolls Online: Tamriel Unlimited, come la data di lancio e il prezzo al variare delle piattaforme supportate (Windows, OS X, PlayStation 4 e Xbon One).





Collegamenti


Tags: bethesda | dlc | game | mmorpg | preview | the elder scrolls online: tamriel unlimited | thieves guild | trailer