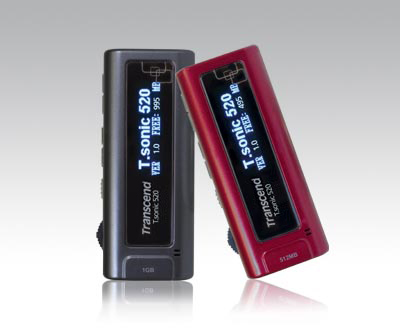 Transcend Information, Inc. is proud to announce the release of its exciting, new T.sonic 520 Flash MP3 Player, an MP3 Player for the talented masses. The T.sonic 520ís Karaoke-type feature encourages you to sing-along by displaying the lyrics of the song you are listening to on its screen. In addition to supporting all of the popular music formats, MP3, WMA and WAV, the T.sonic 520 includes many extra features as standard. Youíll find an FM Radio, Digital Voice Recorder and Line-In Function (record directly from a CD player) packed into this MP3 Playerís small frame, and because the T.sonic 520 is powered using one AAA battery it can be carried and used anywhere without having to worry about recharging.
The stylishly compact T.sonic 520 has a mirrored faceplate from which a bright OLED display magically appears, it easily slips into your pocket or bag, measures only 74mm x 30mm x 18.5mm and weighs a mere 28g (minus battery). The T.sonic 520ís user friendly design means transferring music to the player could not be easier, simply connect the unit to your computer and drag and drop your digital music onto the T.sonic, the Hi-Speed USB 2.0 connection will take care of the rest. Alternatively, you can use the playerís Line-In function, which gives you the convenience of recording music directly from a CD player. You can even use the T.sonic 520 as a transfer and storage device for your computer files and the included software can be used to Lock your computer and setup Password protection for your files.
The T.sonic 520ís FM Radio can preset your 20 favorite stations and has the ability to record from the Radio. In addition to the Radio the playerís Digital Voice Recorder can be used to record memos to yourself, or from others. The T.sonic 520ís A-B repeat feature allows you to replay a designated section of a track and when you combine this with the unitís adjustable Playback speed control you get the functionality of a nifty language learning tool. Other impressive T.sonic 520 features include 7 Equalizer effects with a customizable USER EQ mode, support for filename and song/artist title in 12 user languages and simple Jog-wheel control. So, give your music a makeover with the stylish, fully featured T.sonic 520 available now in 512MB and 1GB flavors.
Product Features
MP3 Player which supports MP3, WMA and WAV formats
FM Radio (FM Radio recording and the ability to preset 20 FM radio stations)
Digital Voice Recorder
Karaoke-type lyrics display
Direct Line-In recording from a CD player
A-B repeat function allows you to continuously replay a designated section of a track
Variable Track Playback speeds
Supports 12 user languages including song/artist name display
USB Flash Drive capabilities for data transfer and storage
Included Software can be used to Lock your computer and setup Password protection for your files
Self-luminous Color OLED Display produces a vibrant clear display, easily viewed at any angle and in any light
7 Equalizer effects, including a customizable USER EQ setting
Hi-Speed USB 2.0 compliant and USB 1.1 backwards compatible
Jog-wheel control
Powered using a AAA battery (one AAA battery supports over 15 hours of continuous operation)
Auto-powers off after 2, 10, or 30 minutes of no usage
Automatic screen saver runs if the unit is idle for more than a few seconds, this acts as a battery saving measure




Source: Press Release
Links


Tags: mp3 | player | transcend