Al fine di supportare il lavoro di sviluppo del nuovo titolo Serious Sam 4, prossimo episodio nell'ambito della serie Serious Sam, i gamer hanno la possibilità di acquistare il pacchetto Humble Bundle dedicato a Serious Sam.
Con questo bundle la software house Croteam rende disponibile, a fronte di una donazione di importo scelto liberamente dall'utente, non soltanto un set di titoli molto noti, tra i quali spiccano i first-person shooter Serious Sam HD: The First Encounter and Serious Sam HD: The Second Encounter, ma anche Serious Sam: The Random Encounter, Serious Sam Double D, Serious Sam: Kamikaze Attack! e Serious Sam Public Test 2.
Nel caso in cui il valore della donazione superi la soglia rappresentata dal valore medio delle donazioni correnti, pari finora a $4.27, i gamer hanno accesso anche agli episodi più recenti della serie di Serious Sam, ovvero Serious Sam 3: BFE (Deluxe Edition) e Serious Sam 2.
E in effetti l'iniziativa legata al pacchetto Humble Bundle consente ai donatori di scegliere i destinatari delle donazioni, e di suddividere gli importi tra le organizzazioni umanitarie no-profit Child's Play Charity e Electronic Frontier Foundation e gli sviluppatori, rappresentati in questo caso da Croteam.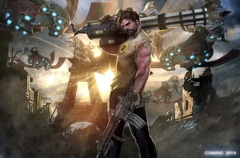 [Immagine ad alta risoluzione]

Croteam investirà i soldi ricevuti nello sviluppo di Serious Sam 4, il titolo a cui è dedicata l'immagine teaser che vi mostriamo poco più in alto, attraverso la quale si apprende che il rilascio del game avverrà nel corso del 2014.





Collegamenti


Tags: croteam | game | humble bundle | serious sam 4