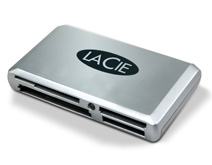 December 13, 2005


Access 11 different types of Flash media with one device
Hi-Speed USB 2.0 bus-powered – for Mac or PC
Plug-and-play for direct data transfer
Supports the xD-Picture CardTM (Conventional card, Type M)
Today LaCie announces the Imatumi Media Reader, a convenient USB tool that allows users to access 11 different types of Flash media in one compact device. This multi-format media reader/writer is perfect for anyone who owns several devices that use memory cards such as cameras, video recorders, PDAs, and MP3 players. Its compact design, simple setup and convenient USB interface make it perfect for viewing images on a variety of digital media. It even supports xDPicture Cards (Conventional card, Type M)TM used by Fuji, Olympus and Kodak.
Designed for environments where multiple types of digital media are used, LaCie Imatumi Media Reader is ideal for families and photographers who need to quickly download photos from digital cameras. Instead of plugging and unplugging many devices, users can just keep the reader plugged in and swap out the cards from its four different slots for quick reading/writing with drag-and-drop ease.
No setup is required on Windows Me or XP, and Mac OS X; setup is quick and easy on Windows 98 or 2000, and Mac OS 9. Connecting and disconnecting to a computer is simple and no AC adapter is needed thanks to the bus-powered USB 2.0 interface. The small, lightweight Imatumi Media Reader easily fits in a pocket or bag for convenient portability. Its rugged aluminum casing provides reliable durability for traveling, transporting and sharing.
Supported Media
Memory Stick
Memory Stick PRO
Memory Stick Duo
Memory Stick Magic Gate
SD Memory Card
MultiMedia Card
SmartMedia (3.3V only, except 1M, 2M Media)
CompactFlash I
CompactFlash II
Microdrive
xD-Picture Card (Conventional, Type M)
Availability
LaCie Imatumi Media Reader is immediately available and comes with an installation driver CD-ROM and USB 2.0 cable (mini B connector). For more information, visit http://www.lacie.com/products/family.htm?id=10012.





Source: LaCie Press Release
Links


Tags: 11-in-1 | flash | lacie | memoria ram | reader