GIGABYTE TECHNOLOGY, a leading manufacturer of motherboards, VGA cards and other computing hardware solutions, has launched GIGABYTE GA-8N-SLI Quad Royal, the world first SLI technology enabled motherboard equipped with four PCI Express X16 slots. Based on the NVIDIA nForece4 SLI Intel Edition and NVIDIA nForece4 SLI chipsets, the GA-8N-SLI Quad Royal is designed for gamers who lived by ultimate performance and ultimate scalability.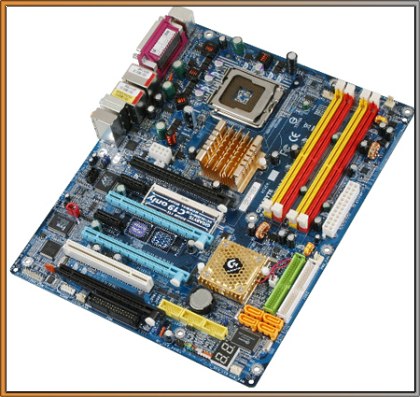 Quad PCI Express X16 Slots
Powered by NVIDIA SLI X16 technology and featuring four PCI Express X16 slots, the GA-8N-SLI Quad Royal frees the limitation of graphics and gaming performance. Supports two full-bandwidth 16-lane PCI Express links which offers twice the PCI Express bandwidth of X8 SLI solutions, the GA-8N-SLI Quad Royal ensures the maximum graphics and gaming performance for next generation GPUs and games. Equipped with GIGABYTE own-designed four PCI Express X16 slots supporting eight monitors output, the GA-8N-SLI Quad Royal is more suitable for gaming with spectacular view or special application which requires multi-monitor output. Delivering unprecedented graphics performance and superior functionality, the legendary GA-8N-SLI Quad Royal is definitely the way to go for gamers, PC geeks and consumers alike!

Fully Featured for the Future
Fully supported by Intel Pentium 4 and Pentium D LGA775 processors, the four 240-pin DIMM sockets can hold an impressive 8GB of DDR2 memory, four SATA 3Gb/s RAID ports with RAID 0, 1, 0+1, 5 functions and one IDE port makes future storage expansion an easy task. Built-in USB 2.0 and IEEE 1394 functionality means connectivity to all the latest high-speed peripherals and multimedia devices. On-board Dual PCI-E Gigabit LAN provides lighting fast networking connections. Embedded post code debug LED display and up to seven fan connectors provides the instant information from the motherboard and the best thermal solution for ultimate gaming experience.
GA-8N-SLI Quad Royal Specification
Intel Pentium Processor Extreme Edition/Pentium D/Pentium 4/Celeron
NVIDIA nForce 4 SLI Intel Edition and NVIDIA nForce 4 SLI
1066/800/533 MHz Front Side Bus
4 x DIMM, max. 8GB, DDR2 667/533
4 x PCI-E X16 , 2 x PCI-E X1, 1 x PCI 2.2
Dual Gigabit LAN
8-channel Audio
4 x SATA 3GGb/s, RAID 0, 1, 0+1, 5
3 x IEEE 1394
EasyTune 5, C.I.A.2, M.I.B.2
¨



Source: GIGABYTE Press Release
Links


Tags: gigabyte | motherboard | quad | top