Il comunicato ufficiale in lingua italiana è scaricabile a questo indirizzo.

Set to push up graphics performance to new levels, Sapphire Technology has just introduced its latest new series of graphics accelerators based on an exciting new architecture delivering the most sophisticated and powerful graphics processing solutions yet.
Based on a completely new architecture, the new X1000 series is built on the latest 90nm chip technology and has been designed to deliver efficiency, high performance in Shader Model 3.0, enhanced image quality and to provide scalability across a range of price performance options.
The top of the range RADEON X1800 family now delivers the highest graphics performance in the industry, with its new architecture featuring 16 pixel shader processors and a new ring-bus based 512-bit memory controller delivering true Direct X 9 Shader Model 3.0 compatibility for the first time. Sophisticated large scale multi-threading is supported with hundreds of simultaneous threads across multiple cores – and the ability to handle small thread sizes and multiple shader instructions per thread maximizes processor efficiency. The huge dynamic range of this new processor enables a new generation of ultra realistic effects to be realized such as dynamic soft shadows and the physical simulation of fluids like rain or water.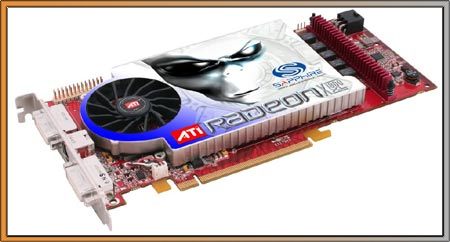 Radeon X1800
Image quality is unrivalled, with High Dynamic Range rendering (HDR) combined with up to 12x Anti-Aliasing (AA), blending capability and a new higher quality anisotropic filtering (AF). Parallax occlusion mapping is a new technique based on ray tracing techniques to allow three dimensional detail to interact on surfaces – details can hide or cast shadows on to each other in real time thanks to the power of the ultra threading capability. The architecture also supports AvivoTM delivering vibrant high fidelity images and video playback to the latest High definition video standards.
Sapphire will introduce several models in this exciting new family, offering a choice of graphics engine and memory speeds. Top of the range will be the X1800XT and XL models. Based on the same architecture, but offering slightly lower performance levels with more affordable pricing will be the Sapphire RADEON X1600 series, and delivering unbeatable performance for really competitive pricing will be the RADEON X1300 series. There will also be versions to support dual GPU operation in CrossFire systems. All models will ship with TRIXX – Sapphire's exclusive safe overclocking utility for enhanced performance.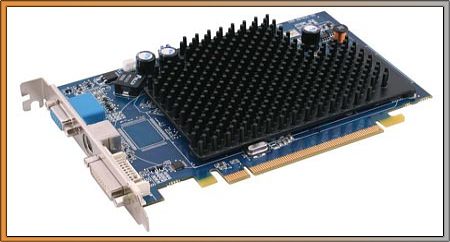 Radeon X1600
Retail versions of these new Sapphire graphics accelerators will ship with Sapphire Select, the exciting new way to deliver a choice of games to the end user. Each card is bundled with a DVD containing a selection of top applications and games from several leading software houses. The end customer can play each of the games for a one hour trial before choosing which titles he or she wants to keep and using the activation codes for those titles.
Sapphire's RADEON X1000 series now family delivers the best graphics and video performance in the industry. For more details please visit www.sapphiretech.com



Source: Sapphire Press Release
Links
Tags: ati | grafica | sapphire | x1000