Con il comunicato stampa di seguito allegato, Inno 3D ha annunciato la propria implementazione della scheda grafica GeForce GTX 295 aderente al nuovo design a PCB unico. Il nuovo prodotto è siglato Inno3D GeForce GTX 295 Platinum Edition ed è configurato con valori molto elevati per le frequenze di clock della gpu, degli stream processor e della RAM (1792MB con bus di interconnessione con i core a 896-bit), essendo pari rispettivamente a 576MHz, 1242MHz e 2000MHz.
Un simile setup dei componenti cardine, unitamente alla dotazione di un cooler della linea Platinum. ottimizzato per favorire la circolazione dell'aria riscaldata dalla stessa video card, rendono questa scheda idonea per il gaming estremo. In accordo al produttore, la GeForce GTX 295 Platinum Edition supporta pienamente l'HD Gaming con titoli anche complessi, come Far Cry 2, Mirror's Edge e Call of Duty: World at War.
Seguono una immagine della scheda grafica e la tabella con le principali specifiche rese note dallo stesso board maker.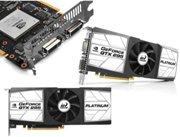 [Immagine ad alta risoluzione]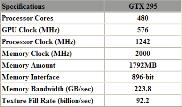 [Immagine ad alta risoluzione]

Hong Kong 15th June, 2009 – Inno3D are excited to launch the Inno3D GeForce GTX 295 Platinum Edition with extreme cooling performance for better gaming speeds. The unbeatable Inno3D GeForce GTX 295 is built with the 2nd Generation NVIDIA Unified Architecture with 480 stream processors. The Inno3D GeForce GTX 295 runs at 576/1242/2000MHz and is the fastest card in the market. The advanced Platinum cooler allows airflow to circulate through the front and back of the case chassis which decreases heat more effectively.
Key Features:
2nd Generation NVIDIA Unified Architecture
Full Microsoft DirectX 10 support
NVIDIA SLI technology
Quad NVIDIA SLI technology (GTX 295 only)
NVIDIA PureVideo HD technology
NVIDIA PhysX technology
NVIDIA CUDA technology
PCI Express 2.0 support
Two dual-link DVI and one HDTV outputs
HDMI support (via dongle)
Dual-link HDCP Capable
OpenGL 2.1 support
Go Beyond HD

Take your DirectX 10 gaming beyond HD, with the power of Inno3D GeForce GTX 295. Place yourself in the center of the action and experience true gaming cinema in extreme HD (2560x1600) resolutions – all enabled by GeForce 200 series second generation unified architecture, NVIDIA SLI technology, and incredible out-of-the-box performance for the latest games including Far Cry 2, Mirror's Edge, and Call of Duty: World at War. With over 50% more performance than prior generation GPUs, Inno3D GeForce GTX 295 tear through complex DirectX 10 environments and cinematic effects at blazing frame rates in beyond HD resolutions.

Power Multiple Monitors with Multiple GPUs

Put the power of the Inno3D GTX 295 to work across multi-monitors and unleash an awesome dual screen 3D experience. Use one monitor for the up-close action while commanding your armies on the second monitor, or experience full-screen multi-GPU gaming performance on your primary monitor, while keeping tabs on your IM and email. With the Inno3D GeForce GTX 295, you won't miss a beat in the virtual world, or the real world. Accelerate your GPU with Inno3D GeForce GTX 295 with CUDA technology that not only provides a best-in-class gaming experience, it also delivers Graphics Plus. Experience jaw-dropping PhysX gaming effects, Stereoscopic 3D, and lightning fast video and image processing all accelerated by the GPU.



Source: Inno 3D Press Release
Links


Tags: 3d | geforce | gtx | pcb | platinum