Microsoft ha scelto Hollywood come palcoscenico provilegiato per annunciare ufficialmente la sua nuova linea di PC denominata Surface. Al momento essa include due soluzioni di tipo tablet, una indicata genericamente come "Surface for Windows RT", ed equipaggiata con un processore ARM, e un'altra denominata "Surface Windows 8 Pro" e basata su un processore Intel Core di terza generazione, anche noto come "Ivy Bridge", in versione low-power.

In entrambi i casi si tratta di sistemi basati su due nuovi OS in arrivo da Microsoft, ovvero Windows RT e Windows 8 Pro rispettivamente; tuttavia, ed è questo un aspetto fondamentale, i computer Surface sono interamente progettati e realizzati da MS anche a livello hardware.

La variante con Windows RT sarà dotata, tra l'altro, di un SSD con capacità fino a 64GB e di un display da 10.6-inch di tipo ClearType HD, mentre quella con Windows 8 Pro vanterà un drive a stato solido con capacità fino a 128GB e uno schermo da 10.6-inch di tipo ClearType Full HD.

Tra le feature dei nuovi tablet un posto di primo piano è occupato dalla "Touch Cover" che, a dispetto di uno spessore di soli 3mm, è in grado di offrire all'utente tutte le funzionalità tipiche di una tastiera fisica, superando per comodità d'uso ed efficienza qualsiasi tastiera virtuale, o on-screen.

Microsoft ha inoltre reso noto che il tablet "Surface for Windows RT" sarà disponibile simultaneamente al rilascio di Windows 8, mentre la versione "Surface Windows 8 Pro" arriverà sul mercato, attraverso i Microsoft Store negli U.S. e on line presso i negozi ufficiali di MS, con un ritardo di 90 giorni.

Il produttore non ha ufficializzato i prezzi consigliati dei nuovi tablet, precisando, da un lato, che essi saranno annunciati in prossimità della commercializzazione dei prodotti e che, dall'altro, essi saranno in linea con quelli dei tablet ARM e degli Ultrabook di Intel nel caso dei tablet "Surface per Windows RT" e "Windows 8 Pro" rispettivamente.

Seguono la foto ufficiale e il video di presentazione della linea di tablet PC Surface pubblicati da Microsoft.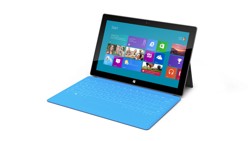 [Immagine ad alta risoluzione]

Today at an event in Hollywood, Microsoft unveiled Surface: PCs built to be the ultimate stage for Windows. Company executives showed two Windows tablets and accessories that feature significant advances in industrial design and attention to detail. Surface is designed to seamlessly transition between consumption and creation, without compromise. It delivers the power of amazing software with Windows and the feel of premium hardware in one exciting experience.
Advances in Industrial Design
Conceived, designed and engineered entirely by Microsoft employees, and building on the company's 30-year history manufacturing hardware, Surface represents a unique vision for the seamless expression of entertainment and creativity. Extensive investment in industrial design and real user experience includes the following highlights:
Software takes center stage: Surface sports a full-sized USB port and a 16:9 aspect ratio – the industry standard for HD. It has edges angled at 22 degrees, a natural position for the PC at rest or in active use, letting the hardware fade into the background and the software stand out.
VaporMg: The casing of Surface is created using a unique approach called VaporMg (pronounced Vapor-Mag), a combination of material selection and process to mold metal and deposit particles that creates a finish akin to a luxury watch. Starting with magnesium, parts can be molded as thin as .65 mm, thinner than the typical credit card, to create a product that is thin, light and rigid/strong.
Integrated Kickstand: The unique VaporMg approach also enables a built-in kickstand that lets you transition Surface from active use to passive consumption – watching a movie or even using the HD front- or rear-facing video cameras. The kickstand is there when needed, and disappears when not in use, with no extra weight or thickness.
Touch Cover: The 3 mm Touch Cover represents a step forward in human-computer interface. Using a unique pressure-sensitive technology, Touch Cover senses keystrokes as gestures, enabling you to touch type significantly faster than with an on-screen keyboard. It will be available in a selection of vibrant colors. Touch Cover clicks into Surface via a built-in magnetic connector, forming a natural spine like you find on a book, and works as a protective cover. You can also click in a 5 mm-thin Type Cover that adds moving keys for a more traditional typing feel.
An Amazing Windows Experience
Two models of Surface will be available: one running an ARM processor featuring Windows RT, and one with a third-generation Intel Core processor featuring Windows 8 Pro. From the fast and fluid interface, to the ease of connecting you to the people, information and apps that users care about most, Surface will be a premium way to experience all that Windows has to offer. Surface for Windows RT will release with the general availability of Windows 8, and the Windows 8 Pro model will be available about 90 days later. Both will be sold in the Microsoft Store locations in the U.S. and available through select online Microsoft Stores.
Contributing to an Expanded Ecosystem
One of the strengths of Windows is its extensive ecosystem of software and hardware partners, delivering selection and choice that makes a customer's Windows experience uniquely their own. This continues with Surface. Microsoft is delivering a unique contribution to an already strong and growing ecosystem of functional and stylish devices delivered by original equipment manufacturers (OEMs) to bring the experience of Windows to consumers and businesses around the globe.
Additional Product Information
Surface for Windows RT
OS: Windows RT
Light(1): 676 g
Thin(2): 9.3 mm
Clear: 10.6" ClearType HD Display
Energized: 31.5 W-h
Connected: microSD, USB 2.0, Micro HD Video, 2x2 MIMO antennae
Productive: Office '15' Apps, Touch Cover, Type Cover
Practical: VaporMg Case & Stand
Configurable: 32 GB, 64 GB
Surface for Windows 8 Pro
OS: Windows 8 Pro
Light(1): 903 g
Thin(2): 13.5 mm
Clear: 10.6" ClearType Full HD Display
Energized: 42 W-h
Connected: microSDXC, USB 3.0, Mini DisplayPort Video, 2x2 MIMO antennae
Productive: Touch Cover, Type Cover, Pen with Palm Block
Practical: VaporMg Case & Stand
Configurable: 64 GB, 128 GB
(1), (2). Actual size and weight of the device may vary due to configuration and manufacturing process.

Suggested retail pricing will be announced closer to availability and is expected to be competitive with a comparable ARM tablet or Intel Ultrabook-class PC. OEMs will have cost and feature parity on Windows 8 and Windows RT.





Source: Microsoft Press Release
Links


Tags: arm | core | intel | microsoft | surface | tablet | windows