Con una mail e alcune foto inviate ai media, e inserite di seguito in base all'ordine di citazione, il produttore di schede grafiche con sede in Olanda Point of View, o in breve POV, ha reso noto che la lunga attesa legata alle video card Fermi č terminata o sta per terminare, dal momento che il proprio deposito č finalmente arricchito dalla presenza delle GeForce GTX 480 e GeForce GTX 470 e che le prime spedizioni di tali prodotti sono state effettuate ieri.
E' peraltro evidente che con una simile tempistica alcuni fortunati acquirenti di una soluzione GeForce GTX 400 di POV potranno ricevere la scheda e cominciare a giocare giā nel prossimo week-end. Tale accadimento sta per rendere Point of View uno dei primi produttori al mondo in grado di commercializzare "realmente" una scheda Fermi.
Seguono il messaggio di POV e le foto dei prodotti in magazzino.
---
"Hi Everybody.... Finally the wait is over... Point of View has received the GEFORCE 470 and GEFORCE 480 in our warehouse. First shipments to customers will be done today... so with some luck you could even buy a POV card before the weekend.... ENJOY."
---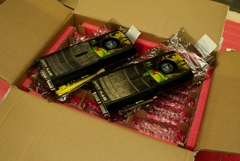 [Immagine ad alta risoluzione]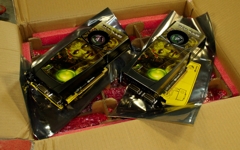 [Immagine ad alta risoluzione]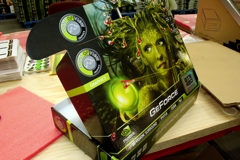 [Immagine ad alta risoluzione]





Collegamenti