Con il comunicato stampa di seguito allegato, Western Digital ha annunciato i suoi primi SSD da 2.5-inch indirizzati al mercato consumer. Le nuove unità fanno parte della linea WD SiliconEdge Blue, che include varianti con interfaccia SATA 3.0 e con capacità di memorizzazione fino a 256GB. Seguono le press release del produttore in italiano e in inglese e le foto del drive WD SiliconEdge Blue da 256GB.
---
Milano, 3 marzo 2010 - Western Digital, leader mondiale nelle soluzioni di archiviazione nel mercato desktop, mobile e consumer, ha annunciato la disponibilità dei primi dischi allo stato solido (SSD) della nuova linea WD SiliconEdge 2.5" dedicati al mercato consumer. Gli SSD WD SiliconEdge Blue offrono alte prestazioni in lettura e scrittura e grandi capacità, cosa che li rende di fatto la soluzione storage ideale per applicazioni che richiedono alte performance in lettura e massima compatibilità plug and play.
Gli SSD WD SiliconEdge Blue, disponibili fino a 256 GB, integrano un'interfaccia nativa SATA 3.0 a 5,5 Gb/s con velocità di lettura fino a 250 MB/s e di scrittura fino a 170 MB/s. Veloci e robusti, gli SSD SiliconEdge Blue di WD migliorano le performance delle applicazioni e offrono la massima resistenza per cadute, urti e vibrazioni; il tutto garantendo silenziosità e bassi consumi.
"Lo sviluppo della famiglia di prodotti WD SiliconEdge Blue sfrutta sia la grande esperienza di Western Digital nella progettazione e nella produzione di prodotti di storage particolarmente affidabili che la rete globale di distribuzione e vendita dell'azienda, allo scopo di accelerare l'adozione della tecnologia SSD da parte di OEM, appassionati di tecnologia, videogiocatori e utenti mobili", ha dichiarato  Michael Hajeck, senior vice president e general manager della business unit Solid State Storage di WD. "I clienti che desiderano il massimo in termini di performance scopriranno che gli SSD SiliconEdge Blue di WD supereranno ogni loro esigenza".
La nuova famiglia di prodotti WD SiliconEdge Blue ha superato rigorosi test di integrità funzionale, che hanno comportato oltre 250.000 ore di prove per garantire la soddisfazione dei più alti standard di integrità, affidabilità e compatibilità. Progettati sia per applicazioni consumer che richiedono il massimo delle prestazioni in lettura, che per applicazioni 24/7 destinate al mondo OEM con esigenze elevate di scrittura, i nuovi SSD di WD basati su tecnologia MLC (Multi-Level Cell) integrano tecnologie già brevettate e in attesa di registrazione, come controllo avanzato wear-leveling ed error correction e supporto al comando TRIM e NCQ (Native Command Queuing) per assicurare le massime performance e durata del drive e una facile compatibilità plug and play.
Prezzo e disponibilità
Gli SSD SiliconEdge di WD sono disponibili presso il canale WD in tre diversi formati ai seguenti prezzi consigliati (IVA esclusa): 64 GB 209,99 euro, 128 GB 369,99 euro e 256 GB 669,99 euro. WD SiliconEdge Blue è supportato dal servizio di assistenza WD e gode di una garanzia limitata di 3 anni.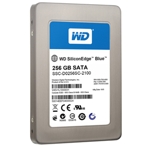 [Immagine ad alta risoluzione]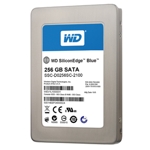 [Immagine ad alta risoluzione]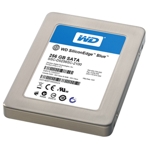 [Immagine ad alta risoluzione]

LAKE FOREST, Calif. - Mar. 3, 2010 - WD (NYSE: WDC) today announced that the company is shipping its first consumer-oriented solid state drive (SSD) with the new WD SiliconEdge 2.5-inch SSD family. WD SiliconEdge Blue SSDs offer fast read/write speeds and high SSD capacities, making them an ideal storage solution for read-intensive applications requiring high performance and plug-and-play compatibility.

WD SiliconEdge Blue SSDs, in capacities up to 256 gigabytes (GB), feature a native SATA 3.0 gigabits per second (Gb/s) interface with read speeds up to 250 megabytes per second (MB/s) and write transfer rates up to 170 MB/s. Fast and rugged, WD SiliconEdge Blue SSDs accelerate application performance and deliver maximum tolerance for drops, shock and vibration along with silent and low-power operation.

"The development of the WD SiliconEdge Blue product family leverages WD's extensive experience in designing and manufacturing highly reliable storage products and the company's worldwide sales and distribution network to accelerate SSD technology adoption by OEMs, technology enthusiasts, gamers and road warriors," said Michael Hajeck, senior vice president and general manager of WD's solid state storage business unit. "Customers who demand the ultimate in performance will find the WD SiliconEdge Blue SSDs exceed all their requirements."

The new WD SiliconEdge Blue product family has passed WD's extensive functional integrity testing procedures, which subjected the WD SiliconEdge Blue SSDs to over 250,000 hours of testing to ensure they meet the industry's highest data integrity, reliability and compatibility standards. Designed for both read-intensive client/consumer applications and write-intensive, 24/7 OEM applications, WD's new multi-level cell (MLC) -based SSDs feature patented and patent-pending technologies, such as advanced wear-leveling and error correction control, as well as TRIM and NCQ (Native Command Queuing) command support to ensure maximum drive performance and endurance with easy plug and play compatibility.

Price and Availability
WD SiliconEdge Blue SSDs are available through select distributors and resellers. The manufacturers suggested retail price (MSRP) for WD SiliconEdge Blue SSD 64 GB (model SSC-D0064SC-2100) capacity is $279.00, the 128 GB (model SSC-D0128SC-2100) capacity is $529.00 and the 256 GB (SSC-D0256SC-2100) capacity is $999.00 USD. The WD SiliconEdge Blue drive is backed by WD's world-class technical support and comes with a three-year limited warranty. More information on WD SiliconEdge Blue SSDs may be found on the company's Web site at http://www.wdc.com/en/products/Products.asp?DriveID=789.





Source: Western Digital Press Release
Links


Tags: siliconedge blu