Kingston Technology ha annunciato la commercializzazione del flash drive USB DataTraveler 150, o in breve (DT150), che è caratterizzato da una capacità di memorizzazione pari a ben 32GB. Il nuovo ingresso nella già nota linea DataTraveler si fa notare per la colorazione in arancione e per il design del guscio, concepito per permettere il bloccaggio sul retro, durante la fase operativa della device, del cappuccio normalmente usato per proteggere il connettore USB.
Il DataTraveler 150 di Kingston supporta Windows Vista, anche se non in pieno poichè non è compatibile con la tecnologia ReadyBoost mediante la quale il drive USB viene utilizzato per contenere un subset delle informazioni (cache) utilizzate durante il caricamento del Sistema Operativo. Tuttavia il DT150 è utilizzabile anche con Windows XP e 2000, Mac OS X 10.3 e superiore e, infine, con le distribuzioni Linux 2.6 e superiori. Il valore del suo MSRP è pari a $139.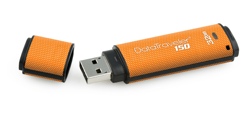 Fountain Valley CA, - October 8, 2008 - Kingston Technology Company, Inc., the independent world leader in memory products, today announced it is shipping its high capacity 32GB DataTraveler 150 (DT150) USB Flash drive. The DT150 offers the largest capacity in Kingston's entire line of DataTraveler USB drives and allows users to conveniently combine work-related content and personal digital content on the same drive with plenty of room to spare. Users can now transport and share entire libraries of music, photos, large business documents, and even video without ever having to change USB drives or search other portable storage devices containing specific content.
"The new DataTraveler 150 has broken through storage barriers by allowing users to store all their digital files ― business or personal ― all under one roof," said Mark Akoubian, Flash business manager, Kingston. "As file sizes increase especially with content such as music and photos, the need for small form factor storage drives with high capacities will continue to go up. The DT150 certainly addresses those needs today."
Kingston's DataTraveler 150 is fully compatible with Windows Vista, XP and Windows 2000 as well as Mac OS X 10.3 (and above) and Linux 2.6 (and above). As with all Kingston USB drive products, the DT 150 carries a fully guaranteed five-year warranty and 24/7 tech support.
DataTraveler 150 Product Features and Specifications:
Capacities: 32GB
Dimensions: 3.06" x 0.9" x 0.47" (77.9mm x 22mm x 12.05mm)
Operating Temperature: 32º F to 140º F (0º C to 60º C)
Storage Temperature: -4º F to 185º F (-20º C to 85º C)
Simple: Just plug into a USB port
Convenient: Pocket-sized for easy transportability
Guaranteed: Five-year warranty
Compatible Operating Systems: Windows Vista (Windows ReadyBoost™ not supported), Windows XP (SP1, SP2), Windows 2000 (SP4), Mac OS X v.10.3.x and higher, Linux v.2.6.x and higher




News Source: Kingston Press Release
Links