Sono ha presentato presso l'EXPO della manifestazione CEDIA (Custom Electronic Desing & Installation Association) 2008 - attualmente in corso a Denver, in Colorado - tre nuove linee di computer desktop all-in-one, siglate VAIO RT, VAIO LV e VAIO JS. Si tratta di sistemi fortemente orientati al mondo della High-Definition, forti del supporto del formato Blu-ray e di tutte le più recenti tecnologie multimediali.
A recitare il ruolo di prodotto "flag-ship" è il VAIO RT, con il suo schermo LCD XBRITE da 25.5-inch e Full HD; questo PC è costruito intorno al processore Intel Core 2 Quad e può gestire fino a 8GB di RAM e a 1TB di memoria di massa. Include un TV Tuner, un ingresso e una uscita HDMI, una porta eSATA e un lettore di memory card Compact Flash. Il Sistema Operativo pre-installato è Windows Vista Ultimate di Microsoft. Il suo MSRP è pari a $3.300.
VAIO RT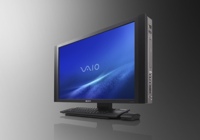 [Immagine ad alta risoluzione]
Il VAIO LV vanta un monitor WUXGA da 24" widescreen con risoluzione consigliata di 1920x1200, un DVR integrato; può essere equipaggiato con 1TB di memoria di massa ed include inoltre un ingresso HDMI (1080p) e un controller wireless per LAN. Il suo MSRP è pari a $1.600.
VAIO LV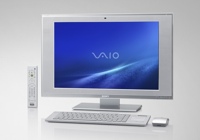 [Immagine ad alta risoluzione]
Il VAIO LV è dotato di un display da 20.1" in tecnologia XBRITE ECO ed è disponibile nelle colorazioni Black, Silver e Pink. Il suo MSRP è di poco inferiore ai $1000.
VAIO JS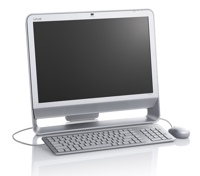 [Immagine ad alta risoluzione]
Tutti questi prodotti arriveranno sul mercato a metà Ottobre.

DENVER (CEDIA Booth #600), Sept. 3, 2008 – Merging powerful PC performance with slim stylish LCD panels, Sony today introduced three new all-in-ones— the VAIO JS, LV and RT desktop models.
Designed as space-savers, these new models are ideal for everything from everyday computing to editing high-definition video content.
"These new all-in-ones address all your entertainment and computing needs— they're an HDTV, Blu-ray Disc player and PC in a fashion-forward, clutter-free design," said Xavier Lauwaert, product manager for VAIO product marketing at Sony Electronics.
Casual Computing/ Affordably Priced

The VAIO JS All-in-One desktop chassis sits directly on your desk complete with a storage space for your keyboard.
Equipped with a 20.1-inch (diagonal) LCD display, the JS model features Sony's own XBRITE-ECO LCD technology so you will experience razor-sharp images in crisp, vivid detail.
An optional Blu-ray Disc ROM optical drive is available for the JS model. Watch pristine HD content or check out exclusive movie previews and downloads utilizing BD-Live, a Blu-ray feature that enables you to access additional content via your Internet-connected PC.
The unit incorporates an integrated microphone and web cam, with face-tracking technology, so it can follow your movements while video-chatting with friends and co-workers.
The JS model boasts powerful desktop computing while curbing energy consumption and noise. It comes pre-installed with Windows Vista Home Premium operating system.
The VAIO JS All-in-One model comes in black, silver and pink and starts at around $1,000.
Power-Packed HD Entertainment
Featuring a floating mirror design, the VAIO LV High-Definition PC/TV serves as your entire entertainment hub.
It is equipped with a 24-inch (diagonal) WUXGA (1920x1200) widescreen high-definition display, with Sony's original XBRITE-FullHD LCD technology, for crystal-clear images.
Most LV models feature a slot-in Blu-ray Disc optical drive so you can enjoy high-definition movies. A rewritable BD drive for recording, storing and playing back personal content on high-capacity BD media is available.
And with built-in DVR capabilities and an up to a terabyte of storage, you can create a personal entertainment library with up to 100 hours of HD television.
An industry-unique-feature in an all-in-one PC, the LV model features a 1080p capable HDMI input so you can connect your compatible HD cable box, satellite receiver or PLAYSTATION3 computer entertainment system (all sold separately) via a single cable and enjoy HD entertainment without powering on the PC.
Packing powerful components, the LV model can multi-task through demanding PC applications while editing HD content. The LV model comes with your choice of Windows Vista Home Premium or Vista Ultimate operating systems.
The LV model is equipped with wireless LAN and an integrated power supply allowing the unit to be cleanly mounted on a wall. A wireless keyboard with a built-in touchpad, mouse and remote control are included.
Video-Editing Powerhouse
The VAIO RT High Definition Studio is a one-stop-shop handling all your high-definition video-editing needs on a single machine.
Its 25.5-inch (diagonal) LCD display, featuring XBRITE-FullHD LCD technology, and Blu-ray optical drive enables you to play, record and edit HD video in 1080p resolution.
In addition to the built-in digital TV tuners, an HDMI In port lets you connect compatible HD cable and satellite boxes to enrich your HDTV viewing experience. An HDMI output has also been included, letting you connect to an external LCD display or HDTV to expand your workspace (HDMI cable, LCD, and HDTV sold separately).
The RT series incorporates Intel Core2 Quad processors, up to 8GB of RAM and a terabyte hard drive. It is equipped with a high-speed eSATA port, for extra storage, and a CompactFlash slot.
The unit comes pre-installed with Windows Vista Ultimate operating system. A wireless keyboard with integrated...