Attraverso il comunicato stampa di seguito allegato, AsusTEK ha presentato due schede grafiche al Computex. Si tratta della ASUS ROG MARS e della ASUS ROG MATRIX GTX 285.
La ASUS ROG MARS è definita dal produttore come la più veloce scheda grafica al mondo: è una soluzione fortemente non reference, basata su due gpu NVIDIA GeForce GTX 285 a cui sono abbinati 4GB di RAM G-DDR3 ed un bus a 1024-bit tra i core grafici e la memoria locale.
Un altra feature eslusiva è il cooler proprietario che, in accordo ad AsusTEK, presenta una maggiore efficienza nella gestione delle heat pipe che permette di dissipare meglio il calore prodotto dai componenti (fino al 20% in più rispetto alle implementazioni convenzionali).
La ASUS ROG MARS sarà disponibile in edizione limitata dal momento che è previsata la produzione di 1000 esemplari, ognuno dei quali sarà riconoscibile in base al numero seriale.
Punto di forza della ASUS ROG MATRIX GTX 285, una GeForce GTX 285 non reference, è invece il Super Hybrid Engine, una tecnologia proprietaria che attiva la variazione automatica della frequenza di clock della gpu (e dunque del livello di overclock) e della velocità della ventola del cooler (chiamato Extreme Cooler) in funzione del carico di lavoro svolto in tempo reale dal processore grafico.
In tal modo è possibile, da un lato, minimizzare sempre il livello di rumore generato dal dissipatore e, dall'altro, incrementare la stabilità del sistema, soprattutto nei casi in cui l'utente abbia configurato in maniera fuori standard la gpu, cosa comunque lecita per una video card di questo tipo. Con iTracker2, infine, l'utente non soltanto ha a disposizione una GUI per l'hardware monitoring ma può eseguire una configurazione certosina della video card, che include la regolazione dei timing del bios.
ASUS ROG MARS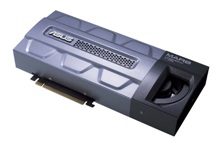 [Immagine ad alta risoluzione]
ASUS ROG MATRIX GTX 285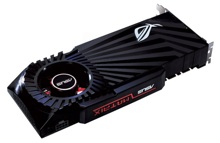 [Immagine ad alta risoluzione]

Taipei, Taiwan, June 4, 2009 – ASUS' Republic of Gamers (ROG), a brand synonymous with gaming and overclocking, today presented a host of innovations and products designed to provide users with the ultimate experience in high performance gaming and overclocking. These include ROG's exclusive MemOK! one-click memory rescue tool for effortless and worry-free memory upgrades, the limited edition ASUS ROG MARS graphics card that shatters all existing graphics benchmarks, and the world's most intelligent graphics card—the ROG MATRIX GTX 285. Other highlights include a 120GHz 3D-ready Gaming Monitor that provides users with an immersive gaming experience, and the ASUS W90 notebook—a mobile gaming powerhouse that has recently set a Guinness World Record in overclocking. With such an impressive line-up, ASUS is once again poised to set the gaming and overclocking scene alight.
ROG: Empowering Gamers and OC Enthusiasts around the World with the Ultimate Gaming and OC Experience
Established in 2006, the Republic of Gamers (ROG) is an initiative by ASUS to provide the very best hardware and technologies to the gamers and overclocking enthusiasts of today. Through extensive research and development, product testing and the constant pursuit of gaming and overclocking perfection, ROG has become a badge of honor for pro-gaming and overclocking champions the world over. With numerous 3DMark Vantage world records for the Entry, Performance, High and Extreme presets under its belt, ROG is the final word in extreme performance and absolute dependability.
MemOK!: Any Memory is A-Ok!
Memory compatibility issues are often the bane of system upgraders, and ASUS is the only motherboard manufacturer in the world that has devised an ingenious tool solely to tackle memory-related problems. Called MemOK!, ASUS' exclusive motherboard feature takes the guesswork and anxiety out of memory upgrading, restoring user confidence and peace of mind. In the event of a boot failure after installing new RAM, all the user has to do is press an easily accessible button on the motherboard and MemOK! will automatically load the failsafe settings needed to ensure a successful system boot. MemOK! is able to rapidly detect and resolve memory issues—even if bad or unstable memory is used! MemOK! is available on the newly released Rampage II GENE, Maximus II GENE and the Crosshair III Formula motherboards.
ROG MARS Graphics Card: Limited Edition, Unlimited Power!
The new ASUS ROG MARS is currently the fastest graphics card in the world and a dream come true for gamers everywhere. An unprecedented combination of dual NVIDIA GeForce GTX 285 GPUs, an awe-inspiring 4GB onboard memory and the world's first 1024-bit memory bandwidth, it is 23% more powerful than conventional GTX 295 graphics cards, unleashing the true power of the NVIDIA GeForce™ GPU. The ROG MARS graphics card also features an improved thermal design that boasts a 65% increase in heat pipe coverage and a 20% heat dissipation rate—thus delivering extreme cooling, even during graphically intensive operations. The ultimate result is non-stop adrenaline-pumping graphics and special effects for a truly unique and simply breathtaking gaming experience. The ASUS ROG MARS will only be available as a limited edition, and each graphics card will be assigned a unique serial number. With only 1000 units slated for production, the ASUS ROG MARS is a masterpiece of power and performance that every hardcore gamer and overclocker must own.
ASUS ROG MATRIX GTX 285: Rule Your Game with the World's Most Intelligent Graphics Card
The latest ASUS ROG MATRIX GTX 285 graphics card comes equipped with the Super Hybrid Engine for automatic hardware load monitoring and adjustments, delivering 15%* lower GPU noise and increasing overclocking stability for up to a 10%* increase in performance. A 5-level LED hardware indicator allows users to keep track of the loading of the GPU. One of the highlights of the ASUS ROG MATRIX GTX 285 is the new iTracker2, which retains its predecessor's robust hardware monitoring capabilities and five scenario GUI...