Sono state pubblicate nella sezione Hardware Modding di Forumzone.it alcune fotografie che testimoniano l'ottimo lavoro di modding svolto da mikepedo sulla propria scheda grafica 3dfx Voodoo5 6000 128Mb. L'intervento di mikepedo č finalizzato al raggiungimento di una maggiore stabilitą della card in condizioni operative aderenti alle impostazioni di default dell'hardware e, in ultima analisi, alla estensione delle possibilitą di overclocking. I componenti interessati dal modding sono stati i quattro processori grafici siglati VSA-100 e i chip costituenti la memoria locale.
Dopo aver effettuato la rimozione dei dissipatori installati da 3dfx sui VSA-100 (cfr. foto seguente)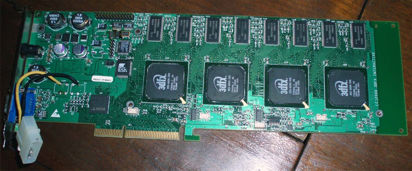 l'autore ha applicato ai processori grafici quattro dissipatori NorthPole di Microcool (questi ultimi sono tipicamente utilizzati per il raffreddamento dei chip aventi la funzionalitą di Northbridge nelle schede madri, cfr. foto seguente).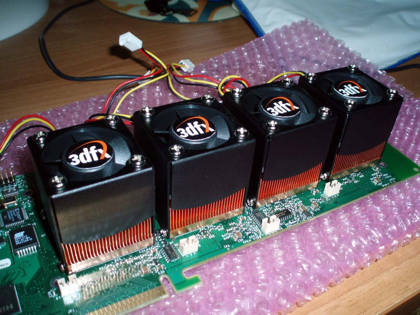 Ciascuna delle quattro ventole č collegata ad un fan control: in tal modo č possibile regolare, con l'ausilio di una strumentazione centralizzata, la tensione di alimentazione di ogni cooler, gestendo manualmente e di volta in volta l'eventuale necessitą di incremento della velocitą di rotazione.
L'autore ha inoltre applicato un dissipatore di rame, prodotto da Thermaltake, su ogni chip di ram (cfr. foto seguente): il serraggio č stato realizzato mediante un collante ad altra termoconduttivitą.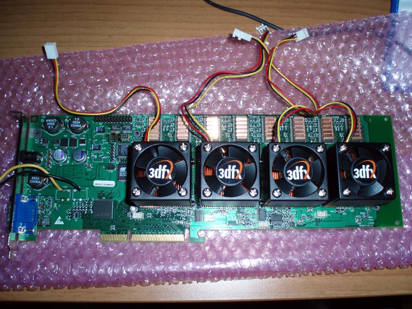 Segue un'immagine della scheda video installata in una motherboard: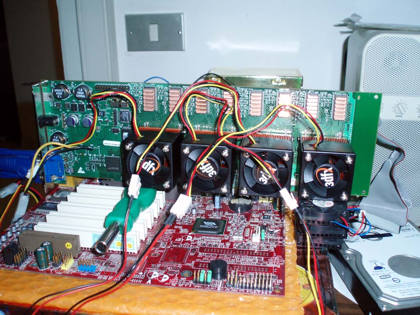 Il lavoro di mikepedo, a valle di ripetute sessioni di testing, ha permesso l'impostazione di una frequenza di clock pari a 183MHz per i VSA-100 e le memorie (contro i 166MHz predefiniti, ndr), senza alcun compromesso in relazione alla stabilitą della card di 3dfx e del sistema nel suo complesso ed in assenza di errori di rendering.

At Hardware Modding forum of Forumzone.it some photos were posted showing fine modding work done by mikepedo on own 3dfx Voodoo5 6000 128Mb video card. mikepedo's target is to get better hardware stability with default clock values and, at last, to extend overclocking limits. Modded components were the four VSA-100 graphics processor and ram chips.
After removing VSA-100 coolers installed by 3dfx (look this photo)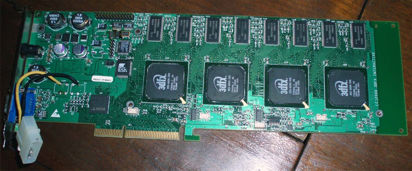 authore applied four Microcool NorthPole coolers (these are tipically used with Northbridge chips of motherboard, look this photo) .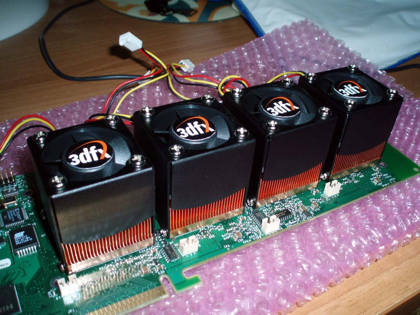 Every heatsink is linked to fan control: so it's possible to modulate power voltage of each fan and to raise rotation speed if thermal conditions require it.
Author used copper heatsinks by Thermaltake for each ram chip (look this photo).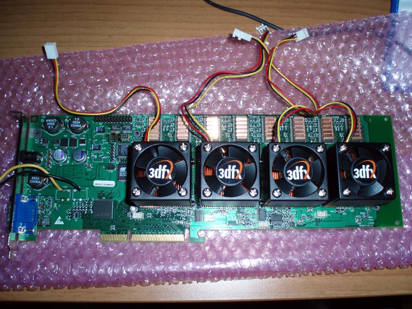 There is a photo of Voodoo5 6000 installed in a motherboard: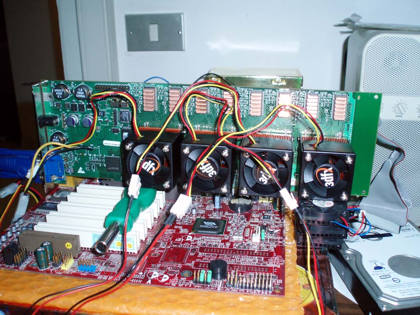 After many testing sessions it's clear that mikepedo's work allows to set a clock frequency for graphis units and ram chips equal to 183MHz (default values are 166MHz): this values don't compromise card or system stability and no rendering errors are reported.





Collegamenti