Potrebbe essere già on line una testing review, o meglio una preview, del processore Core i7-11700K (nome in codice "Rocket Lake-S") rigorosamente non ancora annunciato da Intel. Considerato l'ambito, è molto probabile che il chip messo alla prova non rappresenti il prodotto finale ma un sample engineering dello stesso.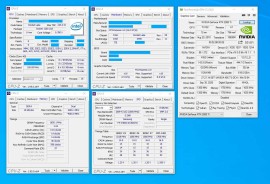 Specifiche Core i7-11700K con CPU-Z
Le principali specifiche del sample di Core i7-11700K riflettono, tuttavia, quanto già emerso, sempre dai canali non ufficiali: più in dettaglio, siamo di fronte a un processore a 8 core e 16 thread che lavora con una frequenza di clock di base pari a 3.6GHz e una frequenza massima con Boost che raggiunge il valore di 4.6GHz con tutti i core attivi e di 5GHz nello scenario single-core. Il TDP della CPU è invece pari a 125W.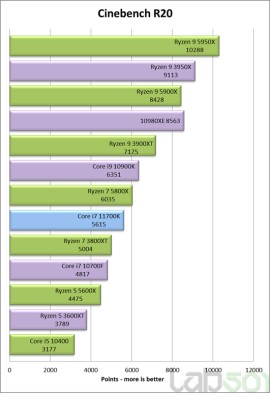 Cinebench R20
Considerando che l'attuale Ryzen 7 5800X è un prodotto caratterizzato dallo stesso numero di core fisici e dalla capacità di gestire lo stesso numero di thread, risulta quindi interessante confrontare le prestazioni del Core i7-11700K con quelle del chip basato sull'architettura Zen 3 di AMD, che presenta peraltro una frequenza di clock massima con Boost pari a 4.7GHz nello scenario single-core e un TDP pari a 105W.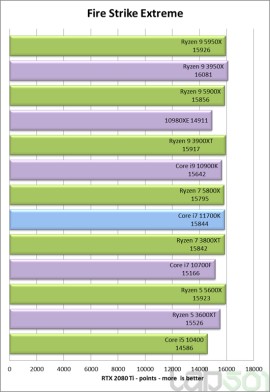 3DMark Fire Strike Extreme
I test sono stati effettuati utilizzando come benchmark sia applicazioni dedicate, come CinebenchR20, WPrime, 3DMark (Fire Strike Extreme) e SuperPI, che videogame, tra cui citiamo Shadow of the Tomb Raider, FarCry New Dawn e GTA V.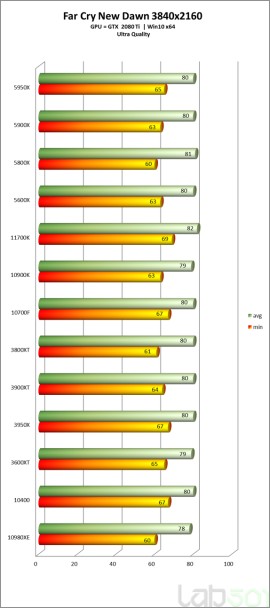 FarCry New Dawn
E' interessante osservare che, al variare dei test effettuati, il confronto tra il Core i7-11700K e il Ryzen 7 5800X ha visto prevalere ora l'uno ora l'altro chip, evidenziando quindi un'alternanza che sancisce un divario sostanzialmente sempre limitato, e una leggera prevalenza "complessiva" della soluzione AMD con i benchmark dedicati e di quella Intel con i videogame impiegati.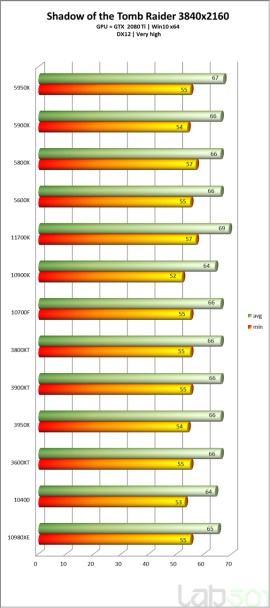 Shadow of the Tomb Raider
Per quanto riguarda, infine, il consumo di potenza dell'intero sistema, i test con l'applicazione Prime 95 hanno evidenziato che la configurazione con Core i7-11700K consuma di più di quella con Ryzen 7 5800X, in accordo peraltro al differente TDP dei chip.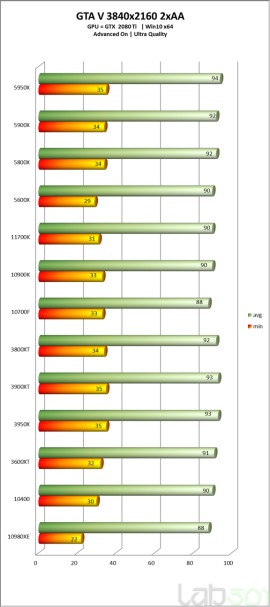 GTA V
Focalizzando l'attenzione sul confronto tra Core i7-11700K e Ryzen 7 5800X, questa preview sancisce uno scenario complessivo di equilibrio dal punto di vista prestazionale, ed è questo un aspetto a favore del chip di AMD che è evidentemente un prodotto già da tempo sul mercato.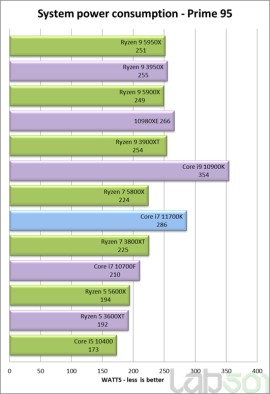 Consumo di potenza

Nello stesso tempo, non è chiara la natura del chip di Intel che, essendo molto probabilmente un sample engineering, può differire anche in maniera significativa dalla versione di produzione destinata a essere immessa sul mercato. In ogni caso, questi test evidenziano che il Core i7-11700K è sempre più veloce del Core i7-10700K, ovvero del processore che verrà spinto in phase-out dalla soluzione Rocket Lake-S.





Collegamenti


Tags: amd | benchmark | core i7-10700k | core i7-11700k | cpu | intel | ryzen 7 5800x | testing