Crucial, divisione di Micron e produttore di memorie RAM e Flash, ha annuciato al disponibilità di una nuova linea di Flash drive conforme con Hi-Speed USB 2.0, commercializzata con la sigla Gizmo! overdrive ed accompagnata opzionalmente da un software per la gestione sicura dei dati. I nuovi drive hanno una capacità che varia da 512Mb fino a 2Gb (cfr. foto seguente) ed hanno nel transfer rate il loro punto di forza.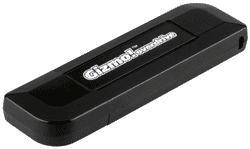 Sono infatti capaci di garantire una velocità in scrittura di 13MB/s e di 25MB/s in lettura. Supportano i Sistemi Operativi Microsoft Windows 2000 e superiori, Mac OS 9.1 e superiori e Linux (kernel 2.2.19). Di seguito è allegato il comunicato stampa del produttore.

Glasgow, UK, March 08, 2006 — Crucial customers can now transfer their digital files at write speeds up to 13 megabytes per second (MB/s) and read speeds up to 25 MB/s. Crucial Technology Europe, one of the world's leading online memory upgrade providers, today introduces two Hi-Speed additions to the popular Gizmo! USB flash drive line: the Gizmo! overdrive and Gizmo! overdrive with security software.
The new Gizmo! overdrives are housed in the same slim Gizmo! drive casing, but sport new colours and optional security software. Features include the following:
Crucial Gizmo! overdrive
Write speeds up to 80X or 13 MB/s
Read speeds up to 160X or 25 MB/s
Glossy-white 68mm x 20mm case
Transfer-indicating red LED
Available in 512MB, 1 gigabyte (GB), and 2GB densities
Currently priced from £23.05 (512MB) to £84.53 (2GB) or €40.25 to €147.62
Crucial Gizmo! overdrive with security software

Same performance as Gizmo! overdrive
Security software for data encryption and password protection
Jet-black 68mm x 20mm case
Currently priced from £24.01 (512MB) to £91.25 (2GB) or €41.93 to €159.36
"We took the award-winning design of the current Crucial Gizmo! drive, stepped up the performance, improved the look, and added a version with security software," said Crucial Technology Product Marketing Manager Terry Groth. "You can move data to or from the new Gizmo! overdrive at more than twice the speed of the current Gizmo! drive and access data from the Gizmo! overdrive to your computer in about a third of the time. This new combination of features allows you to move and store your data quickly and safely, too — a must for today's demanding, on-the-go users."
The Gizmo! overdrive automatically appears as a removable drive when plugged into the USB port of a desktop PC, Macintosh or notebook and is compatible with Microsoft Windows 2000 and above, Mac OS 9.1 and above and Linux kernel 2.2.19. Security software supports only Microsoft Windows 2000 and above. Each Gizmo! overdrive is Hi-Speed USB 2.0-compliant and comes with a multilingual user guide, limited lifetime warranty, free shipping within the UK on qualifying orders and Crucial's renowned customer service and free technical support. A USB 2.0-compliant port is required for operation at Hi-Speed.