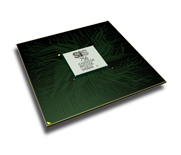 Taipei, February 09th, 2006 -- Silicon Integrated Systems (SiS) announced today the company releases of a full line of chipsets to support the latest AMD socket AM2 processors. The move yet again demonstrates SiS' abilities as an industry leader in technology development and cements the company's future market position.
These latest chipsets for AMD Socket AM2 covers the full spectrum of desktop and mobile platforms, with two new chipsets for desktop platform: SiS756 and SiS761GX; and four for mobile solution: SiS756, SiSM760, SiSM761GX and SiSM760GX. The AMD socket AM2 is slated to fully replace AMD's current socket 939 and socket 754, and will be available on the second quarter of 2006. AMD Socket AM2 processors provides full support for advanced DDR2 memory and dual-channel technology, effectively increasing memory working frequency and bandwidth, and thereby considerably enhancing overall system performance.
SiS and AMD have built a strong and long-lasting strategic partnership. The new SiS desktop chipsets, SiS756 and SiS761GX, support AthlonTM 64 X2 Dual-Core CPUs as well as the AthlonTM 64 FX, AthlonTM 64, SempronTM and OpteronTM processors. SiS756 is currently the most high-end desktop chipset of SiS with AMD64 and PCI Express x16 support, while the integrated SiS761GX chipset includes the advanced MirageTM1 graphics core with software support for DirectX 9.
SiS also presents a series of chipsets for mobile platform, including the SiS756, SiSM760, SiSM761GX and SiSM760GX to support AMD socket S1/AM2 mobile processors. These chipsets also support the AMD TurionTM 64, Mobile AthlonTM 64 and Mobile SempronTM CPUs.
SiS leads the industry once again with the announcement of supporting AMD Socket AM2 CP2, which highlights the extreme compatibility and flexibility of SiS' experience in chipset design. This announcement paves the way for the new generation of AMD processors and provides a wide range of options and product flexibility for consumers.
The new generation AMD Socket AM2 CPUs include an embedded DDR2 memory controller that supports up to 333 MHz DDR2-667 memory and dual channel technology. AMD Socket AM2 processors include the AthlonTM 64 X2, AthlonTM 64 FX, AthlonTM 64 and SempronTM series CPUs.
SiS chipset specifications:
Platform
Desktop
Notebook
Chipset Model
SiS756
SiS761GX
SiS756
SiSM760
SiSM761GX
SiSM760GX
AMD Socket AM2
Yes
Yes
Yes
Yes
Yes
Yes
PCI Express x16
Yes
Yes
Yes
-
Yes
-
Integrated Graphics Core
-
Mirage1
-
Mirage2
Mirage1
Mirage2
HyperStreaming Technology
Yes
Yes
Yes
Yes
Yes
Yes
MuTIOL 1G
Yes
Yes
Yes
Yes
Yes
Yes




Source: SiS Press Release
Links


Tags: am2 | amd | chip-set | sis | socket