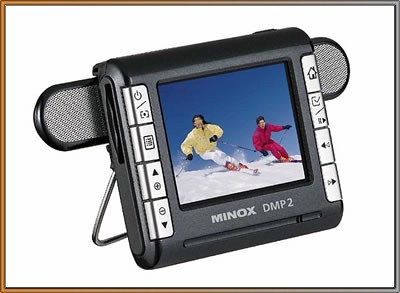 Really talented performers are rare and therefore much in demand –MINOX GmbH now presents another multi-talent tool in its program - the DMP-2. This versatile, compact media player reveals completely new quality features in image and sound entertainment. The powerful performance of this tiny digital hub is hard to imagine considering its weight and dimensions. The key focus is on the playback and recording of video files in future-pointing, high-resolution MPEG4 format. The DMP-2 also stands out as an excellent portable digital photo album, MP3 Player, FM-Radio und voice recorder. Two folding speakers provide a wider base for the stereo playback and create an absolute highlight in design and sound. This MINOX DMP-2 is simply first-class multimedia enjoyment!
By operating the keys on the device the user has access to a richly varied program supplied via the built-in 128 MB flash memory, an optional SD card with a capacity of up to two gigabytes or through the stereo-earphone which also serves as a FM antenna when using the radio function. The outstanding feature is the extremely simple handling for recording videos: It is possible to directly copy feature films onto the player or SD card without the support of a computer, for example – the two gigabyte storage capacity is enough for approximately two films. External AV sources such as TV receiver or DVD player are connected directly to the DMP-2 using a cable, which then functions as an output device with stereo sound through the fold-out speakers. Pressing the recording button starts or terminates the recording for the "presentation" later on. Files for playing with the MP3-player can be recorded using the voice recorder function or via the integrated FM radio. The DMP-2 automatically encodes sound to MP3 format or video signals to MPEG4 format depending on the pre-set quality stage (radio or voice recording).
Boasting a superb functional design the DMP-2 fits snugly in the user's hand like a small keypad. The large bright and pin-sharp 2.5 inch TFT display in the sturdy body is enclosed on the left and right by metallic function keys for single thumb control. Icons and arrow displays on the screen support the easy and intuitive operation of the tool, and the multiple assignment of individual keys is obvious straight away in the respective context - making it possible to carry out the functions start and stop, page and zoom, store and delete, wind and scan functions in a flash.
The USB interface can be used to transfer files quickly between computer and media player or for charging the replaceable Li-ion battery. The capacity of the battery allows approximately three hours film play. There is a folding wire stand on the back of the body for standing the device up during recording or for charging the battery – and which can also turn the DMP-2 into an electronic picture frame.
Besides Li-ion battery, AC-adaptor and stereo-earphone the scope of delivery of the DMP-2 also includes a USB and AV cable as well as a user's manual and a CD-Rom with software.



Source: Minox Press Release
Links