Point of View ha annunciato la video card POV/TGT GeForce GTX 680 UltraCharged, una soluzione factory-overclocked capace di vantare una frequenza di boost per il core grafico della gpu pari a 1176MHz. La memoria on board (2GB di G-DDR5) lavora invece a 6008MHz, ovvero in maniera pienamente aderente al design reference.

Tra le peculiarità della POV/TGT GeForce GTX 680 UltraCharged citiamo il design personalizzato dell'hardware, che ha permesso l'implementazione di uno stadio di alimentazione sovradimensionato, in grado di supportare funzionalità avanzate di auto-overclocking.

Dal punto di vista termico, la POV/TGT GeForce GTX 680 UltraCharged è dotata di un cooler non reference, equipaggiato con tre ventole, che, in accordo al produttore, riduce la temperatura di 10°C rispetto alla soluzione reference, a parita di condizioni operative.

La POV/TGT GeForce GTX 680 UltraCharged è stata commercializzata in Europa; il prezzo suggerito è pari a €570.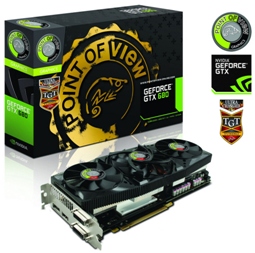 [Immagine ad alta risoluzione]

Point of View the leading European manufacturer of an exclusive range NVIDIA based 3D processor boards, advanced netbooks as well as fancy 7″ and 10″ Tegra tablet computers and additional enthusiast PC products, announces today that it is first to market with a GeForce GTX 680 3D processor board running at a boost clock of 1176 MHz. The POV/TGT GeForce GTX 680 UltraChargedTM features POV/TGT's award winning proprietary High-Performance/ Wide-Band-width hardware design, an advanced power management for Auto-Overclocking and triple fan cooling for utmost stability and cooling efficiency.
First independent reviews already published on the net confirm performance and cooling efficiency:
Source: Sanjin Rados, www.fudzilla.com.
The POV/TGT GeForce GTX 680 UltraChargedTM is immediately available at an expected street price of around € 570 incl. VAT
For more information visit http://www.pointofview-online.com
Product Specifications
NVIDIA GK 104GPU
Base Clock1110 MHz
BoostClock1176 MHz
1536CUDA Cores
2048MB GDDR5 memory
Memory Interface:256 bit
Memory Clock:6008 MHz
400 MHz RAMDAC
PCI Express x16 3.0 bus Interface
Product Features
NVIDIA SMX Engine
NVIDIA GPU Boost
NVIDIA Adaptive Vertical Sync
NVIDIA Surround
Supports four concurrent displays: two dual-link DVI connectors, HDMI and Displayport 1.2
Microsoft DirectX 11.1 with DirectCompute 5.0 support
NVIDIA CUDA Technology
NVIDIA PhysX Technology
OpenCL Support
OpenGL 4.2 Support
NVIDIA 2-way, 3-way and 4-way SLI Ready
NVIDIA 3D-Vision Ready
Connectors
TwoHDCP enabled Dual-Link DVI output connectors, (one DVI-I and one DVI-D)supporting 2560 x 1600 (digital) and 2048 x 1536 (analog)
One HDMI 1.4a output connector
One DisplayPort output connector
One6-pin and one 8-pin 12V PCI-E power input connectors
Product Dimensions and Weight
(H x L) 118 mm x 262 mm
950g (1325 g gross weight)
This product occupiestwo slots

Accessories
System Requirements
PCI-Express or PCI-Express 2.0 or PCI-Express 3.0 motherboard with one free PCI-E x16 slot
550 Watts or greater power supply with a minimum of38 Amps on the 12 Volts rail
Minimum one 6-pin PCI-Express power connector and one8-pin PCI-Express power connector
Microsoft Windows 7 / Vista / XP
Warranty



Source: Point of View Press Release
Links


Tags: geforce | gtx | nvidia | point of view | pov | tgt