Con il comunicato stampa di seguito allegato, HP ha annunciato il primo mouse wireless al mondo, denominato HP Wi-Fi Mobile Mouse, il cui collegamento con il computer non richiede una interfaccia USB, tecnicamente indicata come "dongle", che assicuri la ricezione del segnale inviato dalla device di input, ma un controller Wi-Fi che ormai da anni è incluso nella maggior parte dei sistemi notebook e in buona parte di quelli desktop.

HP è riuscita a lanciare un prodotto di questo tipo con l'ausilio della connettività Wi-Fi, pienamente supportata dal mouse, e della tecnologia proprietaria HP Link-5.

Tra i vantaggi offerti da una soluzione di questo tipo, oltre al non utilizzo e conseguente ingombro delle porte USB (un simile aspetto è cruciale nel caso in cui le device USB siano numerose, ndr), vi sono la maggiore durata della batteria (fino a 9 volte superiore alla durata di quelle che equipaggiano i mouse wireless convenzionali che utilizzano Bluetooth, afferma HP) e l'ampliamento del raggio d'azione (il mouse può essere utilizzato fino a oltre 9m dal PC).

Il nuovo HP Wireless Mobile Mouse sarà lanciato a giugno negli U.S. con un MSRP pari a $24.99.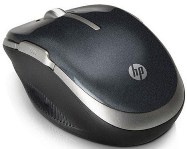 [Immagine ad alta risoluzione]

HP today announced a new lineup of wireless accessories equipped with Wi-Fi connectivity and HP Link-5 technology to promote mobility and ease of use. Products such as the company's exclusive HP Wi-Fi Mobile Mouse allow users to do more without the hassle of wires and with the assurance of extended battery life.

"HP offers its customers a wide variety of accessories that are simple to use with connectivity options to meet their unique needs," said Scott Pappan, director, Accessories, Personal Systems Group, HP. "For consumers who desire PCs that are light and small but offer fewer USB ports, or for those who use their PCs in multiple settings, options like Wi-Fi and Link-5 allow users to keep USB ports free for other devices."


Industry's first Wi-Fi mouse
The new HP Wi-Fi Mobile Mouse is the first mouse to connect quickly and easily without a USB dongle via a PC's built-in Wi-Fi receiver. A reliable, first-time pairing connects the mouse to the PC, allowing users to work with ease and confidence. The mouse instantly reconnects during each use and operates without interference from other wireless devices.

The HP Wi-Fi Mobile Mouse also offers:
Up to nine months of battery life more than twice the battery life of comparable Bluetooth models.
Five customizable buttons that allow users to create shortcuts for common actions such as cut, paste, undo and redo.
A smooth, four-way-tilt scroll wheel to improve control while scrolling up and down or side to side.
Full functionality up to 30 feet from the PC.
A sculpted form with rubber sides to ensure a comfortable, secure grip that can be used in the right or left hand.
HP Link-5 technology liberates USB ports
HP also introduced new PC accessories with HP's exclusive Link-5 technology. Link-5 allows users to connect up to five HP-compatible PC accessories with one receiver, freeing up valuable USB ports.

There are no drivers or software to install. Users simply press the "Connect" button on a Link-5 device to pair it with their PC. The wireless receiver then "remembers" all paired devices, making Link-5 accessories ideal for those using a PC in multiple settings such as the home, office or other mobile locations.

Link-5 delivers reliable connectivity using 2.4-GHz wireless technology and has an intelligent sleep mode to ensure the longest possible battery life. The latest Link-5 accessories lineup includes:

HP Wireless Mini Keyboard: Just the right mobile companion for a tablet or entertainment PC, this full-featured keyboard is lightweight and ultra-small in size.
HP Wireless Ultrathin Wireless Keyboard: Offering a stylish look and feel, this keyboard is durable, full-featured and a great value.
HP Wireless Elite v2 Keyboard: Featuring a sleek, ultra-slim design, this keyboard offers superb performance and comfort.
HP Wireless Optical Comfort Mouse: Offering a comfortable, secure grip for use in the right or left hand, this mouse features an optical sensor with adjustable sensitivity that works on most surfaces.
HP Wireless Laser Comfort Mouse: Using a laser sensor with adjustable sensitivity, this mouse delivers optimal performance and works on most surfaces.
HP Wireless Mobile Mouse: Designed for users who are on the go, this mouse delivers reliable wireless connectivity at a great value.
Pricing and availability
The HP Wi-Fi Mobile Mouse is expected to be available in the United States in June at a starting price of $49.99.
The HP Wireless Mini Keyboard is available now in the United States at a starting price of $59.99.
The HP Ultrathin Wireless Keyboard is available now in the United States at a starting price of $59.99.
The HP Wireless Elite v2 Keyboard is expected to be available in the United States in July at a starting price of $49.99.
The HP Wireless Optical Comfort Mouse is expected to be available in the United States in June at a starting price of $29.99.
The HP Wireless Laser Comfort Mouse is expected to be available in the United States in June at a starting price of $39.99.
The HP Wireless Mobile Mouse is expected to be available in the United States in June at a starting price of $24.99




Source: HP Press Release
Links


Tags: adattatore | hp | mouse | usb | wireless