SFFT Driver Control Panel
SFFT Tools is the native control panel of SFFT driver for 3dfx Voodoo video cards; its main goal is to allow users to simply set up several driver settings and improve the hardware performances or the graphics quality or both. For example, by SFFT Tool you can choose the sample's number of anti-aliasing filter and the 3D Filter Quality, or enable Triple Buffering and MipMap Dithering.
SFFT Tools runs automatically by Windows startup; besides it's available in two packages for both 32-bit and 64-bit hardware and software configurations.

Suggested Installing Procedure
Install latest SFFT Driver and reboot your system;

Run file named "setup.exe" included in both 32-bit and 64-bit packages;

Reboot your system.
Now you can call SFFT Tools by an icon in system tray.

Screenshots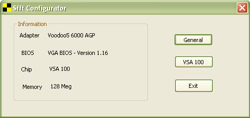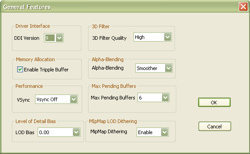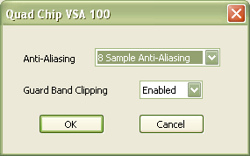 Downloads
SFFT Tools for Voodoo3/4/5 - 32bit - 5.18MB
SFFT Tools for Voodoo3/4/5 - 64bit - 5.79MB

Useful Links