Con il comunicato stampa di seguito allegato, LEADTEK Research ha lanciato la scheda grafica di fascia alta siglata WinFast GTX 260 EXTREME+. Si tratta di una soluzione basata sulla gpu NVIDIA GTX 260 realizzata in tecnologia a 55nm, pensata per i gamer che puntano ad eseguire i game con un frame rate elevato.
La gpu della nuova WinFast GTX 260 EXTREME+ include 216 stream processor, lavora a 602MHz mentre la memoria on board a 999MHz; il bus di interfaccia tra tali componenti è a 448-bit. La card rende disponibili due uscite dual-link DVI e una uscita HDTV.
E' al solito molto nutrito l'elenco delle tecnologie supportate, che comprende DirectX 10, Shader Model 4.0, OpenGL 2.1, Hybrid SLI, 3-way SLI, PhysX, CUDA e PureVideo HD.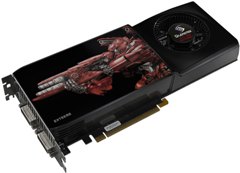 [Immagine ad alta risoluzione]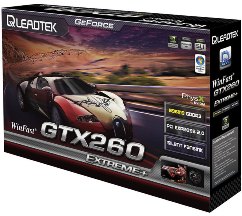 [Immagine ad alta risoluzione]

Taipei, Taiwan, January 6th, 2009 - LEADTEK Research Inc., world acclaimed for its extremevisual graphics leading brand technology, proudly announces its latest WinFast GTX 260 EXTREME+ with a new graphics card packaging design. Based on the Best-in-class NVIDIA GTX 260 chipsets, this thoroughbred graphics card delivers advanced performance with the best cooling silent fansink. Its overclocking capability is sure to bring users a fantasy visual effect. Together with the launch of the graphics card, Leadtek debuts a new packaging design. The latter replaces the former robots with a series of top speed cars as the key visual. This original concept aims to vaunt Leadtek's corporate spirit of "high quality & speedy performance" that gives users an altogether new visualimpression.
WinFast GTX 260 EXTREME+ is powered up with 2nd Generation NVIDIA Unified Architecture and enables the rendering of multiple, true-to-life characters in complex and dynamic virtual worlds. In addition, the latest parallel computing architecture with massive independent processing cores enables GTX 260 EXTREME+ to execute the most intricate non-gaming applications via CUDA language. This includes acceleration of the art design application - science simulation application or transcoding of video to a personal video player up to 7X faster than the CPU.
And on top of all this, with WinFast GTX 260 EXTREME+, there's the Hybrid SLI technology solution. The new technology is based on the SLI and Hybrid Power technology and increases graphics performance with GeForce Boost for intelligent power management with Hybrid Power.
The latest NVIDIA PhysX technology gives games a real lift with hugely destructible environments and ultra-realistic physical interaction. Gamers, one and all, get drawn convincingly, with sweating palms and racing hearts, into a virtual but realistic gaming environment as lifelike characters behave with incredible authenticity
And users are now able to experience the red-hot 'zinging' performance of WinFast GTX260 EXTREME+ with the bundled award-winning real-time strategy and RPG game — OverLord. In this highly rated game each decision directly affects the character and results in a quite unique climax, all to the accompaniment of superb music and, for the most part, voicing.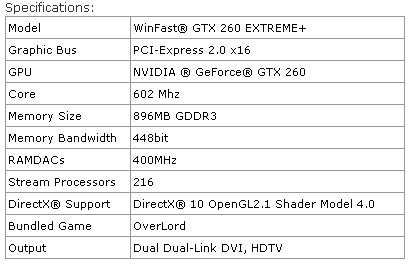 Source: Leadtek Press Release
Links