MSI ha lanciato la motherboard G45M Digital, la prima soluzione al mondo in ambito mATX capace di vantare il supporto della tecnologia DrMOS, che è dedicata al risparmio energetico da un lato e alla minimizzazione dell'inquinamento acustico dall'altro, dal momento che permette di mantenere una temperatura operativa più bassa rispetto a quella dei sistemi realizzati in maniera tradizionale.
La motherboard G45M Digital è basata sui chipset Intel G45 (northbridge), Intel ICH10R (southbridge) e Intel X4500HD (IGP); è compatibile con i processori Intel Core 2 Extreme, Quad e Duo e supporta fino a 16GB di RAM DDR2 a 800MHz. Include inoltre uno slot PCI-Express x16, uno slot PCI-Express x1 e due slot PCI. E' perfetta per le applicazioni multimediali tipiche di un HTPC (Home Theater Personal Computer) in virtù della dotazione della tecnologia Intel Clear Video (immagini in 2D e 3D e Blu-ray play-back) e dell'audio HD a 8 canali.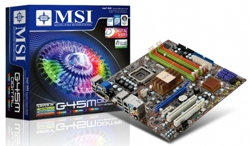 [Immagine ad alta risoluzione]

[Taipei, Taiwan] Keeping its position as one of the world's industry leaders in innovation and technology, MSI, the world's top motherboard manufacturers, today launched the world's first mATX motherboard, G45M Digital, which utilizes the server-class DrMOS. It provides the best energy-saving solution for multimedia entertainment applications. The new G45M Digital motherboard provides energy-saving power transmission. All CPU power supply modules are using the high-quality DrMOS chip, and the exclusive GreenPower/APS (Active Phase Switching) power-saving technology. Even when it is used for a long time, users do not have to worry about the power consumption. G45M Digital motherboard utilizes the latest Intel G45/ICH10R chipset based, built-in Intel X4500HD graphics core and Intel Clear Video high-definition technology to provide high-performance 3D graphics and images. Through hardware decoding acceleration, users can also enjoy the Blu-ray high-resolution HD movies which significantly reduce the CPU loading. In addition, it also provides HDMI, DVI, D-Sub multiple display output, as well as 8-channel HD audio quality, enabling users to experience the perfect multimedia applications.
Server-Class DrMOS Technology – Energy Saving and Best Performance
The second-generation DrMOS chip is recommended by Intel for processor power supply application which provides the three major features -- GreenPower (Highest Efficiency), RapidBoost (Best performance), and XpressCool (Zero Noise). It enables the G45M Digital motherboard to get adequate power supply and be more stable. When the system is in high-load operation, the power efficiency is as high as 93% which effectively reduces the waste of power consumption. With the ultra-low power reaction time and low-impedance features of DrMOS, G45M Digital motherboard can easily cope with a variety of harsh computing codec and provides a better computing performance. Unlike traditional discrete MOS design, DrMOS has a very low heat which makes the G45M Digital motherboard drop the temperature by 16 degrees. Moreover, it offers good heat dissipation capability and low noise fan.
The industry's only hardware active phase switching technology – APS (Active Phase Switching)
MSI's exclusive APS technology, a BIOS-level power-saving technology, is the key features to reduce the waste of motherboard power supply. Without running the operating system, users can directly control the computing load and automatically switch the power supply phase after booting. When the system is in high-load, the whole power phase will be opened to supply the adequate power. When the system is in low-load, the APS will close the redundant power supply phase to reduce the power consumption.
Built-in super Intel X4500HD video core
The new G45M Digital motherboard built-in Intel X4500HD video core, provides the best built-in video performance. Compared to the previous G35 built-in video core, the Intel X4500HD was improved by 72% in the 3D computing performance. Without using other independent video card, the system can cope with most 3D games in the market. In addition to the incredible features, the G45M Digital motherboard not only supports DirectX 10 Shader Model 4.0 applications and high-resolution HDMI, HDCP, DVI output, but also supports the hardware decoding acceleration that enables users to playback HD-DVD and Blu-ray high-definition HD video smoothly even when the CPU is in low-load.
G45M Digital motherboard supports the latest 45nm Intel Core 2 Extreme / Quad / Duo processors. It also supports the currently most economic DDR2-800MHz memory module with the largest expanded capacity up to 16GB. The system performance can enhance significantly if user uses the 64-bit operating system. In addition, it also supports the second-generation PCI-E X16 graphics card slots, supporting the ATI CrossFireX to help retain the escalation. G45M Digital motherboard comes with MSI's spirit of innovation and a complete and comprehensive number of exclusive features to offer consumers only the best motherboard product.
G45M Digital
Supports Intel Extreme/Quad/Duo series processors
Supports DDR2 800 memory slots expanded up to 16GB
Utilizes DrMOS chip
HDMI DVI D-Sub video output
PCI-E 2.0 x16 supports ATI CrossFireX
1 PCI-E x1, 2x PCI 2.3
mATX 244X225mm form factor




Source: MSI Press Release
Links


Tags: drmos | micro-atx | motherboard | msi