Mediante il comunicato stampa di seguito allegato, ASUS ha aggiunto alla linea di schede grafiche ad alte prestazioni e gaming-oriented Republic of Gamers (ROG) le soluzioni siglate EAH4870 MATRIX/HTDI/512MD5 e EAH4850 MATRIX/HTDI/512M. Si tratta di video card powered by ATI, basate rispettivamente sulle gpu Radeon HD 4870 e 4850.
E' al solito molto ricca la dotazione di queste schede grafiche, ben lontane dagli standard tipici dei prodotti reference per le motivazioni più disparate. Le nuove Matrix possono infatti operare in tre differenti modalità (Optimized Mode, Gaming Mode e Power Saving Mode) a cui corrispondono tre differenti insiemi di settaggi, impostabili dall'utente tramite software di controllo, non soltanto delle frequenze di clock di gpu e RAM on board, ma anche delle tensioni di polarizzazione di tali componenti.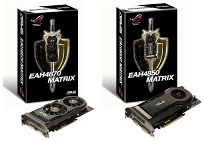 [Immagine ad alta risoluzione]

ASUS, the world's leading producer of top-quality graphics solutions, today unveiled the ASUS Republic of Gamers (ROG) EAH4870 MATRIX/HTDI/512MD5 and EAH4850 MATRIX/HTDI/512M graphics cards; which sport the Radeon HD 4870 and 4850 GPU respectively. These world's most intelligent cards are equipped with ROG-exclusive technologies and features that unleash the full power of graphics cards, allowing gamers to enjoy an unrivaled in-game visual experience.
They achieve this through several unique features, including:
Integrated hardware and software for total graphics card control
Customizable functions that provide a new level of control to gamers
Twin fan control application to separately adjust Hybrid Cooler+ fans (for EAH4870 MATRIX)
Accurate adjustments of GPU and memory voltages
Complete monitoring of GPU/memory/Power IC/ambient temperatures
Complete monitoring of GPU/memory/board power consumption
Automatic control of fan speeds according to the world's only advanced GPU loading detection
Energy efficiency that surpasses generic boards
The Perfect Answer to Gaming NeedsBoasting a stylish design that comprises daring lines, a futuristic Hybrid Cooler and a black circuit board, the ASUS ROG EAH4870 MATRIX and EAH4850 MATRIX can instantly be identified as pieces of top-notch gaming hardware. The ROG logo prominently emblazoned on the cooler is a mark of ROG's promise that these graphics cards will deliver extreme gaming performance. Both cards are equipped with the ASUS Super Hybrid Engine, Hybrid Cooler technology and iTracker, enabling 15% and 17% performance boosts in 3D mode while guaranteeing 54% and 28% less power consumption and much quieter cooling in 2D mode— fulfilling the varied needs of gamers.

Auto Hardware Detection and Adjustments with Super Hybrid Engine
ASUS' exclusive Super Hybrid Engine (SHE) technology showcases its intelligence via a two-fold process. First gathering detailed information about the GPU loading and temperature, memory and power IC; SHE then calculates an optimized solution for the best performance. All of this happens in real time, without requiring any tinkering from users—making it easy to achieve multi-level GPU and memory voltage adjustments for the ultimate graphics performance or maximum energy savings.

Hybrid Cooler for Auto-managed Proactive Cooling
The most intelligent and innovative GPU thermal solution today, Hybrid Cooler draws its inspiration from Hybrid cars. By combining the fan and heatsink on one card in a revolutionary way, the Hybrid Cooler delivers its targeted level of performance in the most energy-efficient manner possible. When required, the fan and heatsink will work together for optimum cooling. Fan speeds are automatically determined via the world's only advanced GPU loading detection, providing users with proactive cooling and greater energy efficiency in the event of lower graphics utilization—much like Hybrid cars. In addition, the ASUS ROG EAH4870 MATRIX comes with the dual-fansink Hybrid Cooler+. The dual fansinks take good care of not only the GPU but also the Power ICs and memory modules to prevent overheating. The speeds of both fans are also automatically adjusted to offer extreme cooling under 3D mode—lowering GPU and Power IC temperatures by a whopping 7°C and 12°C in comparison to reference design boards. On top of this unprecedented cooling capacity, the noise level of Hybrid Cooler+ is only 36dB versus generic designed fansinks that produce 59.3dB—catering to users who require maximum cooling but without excessive fan rotation noise.

iTracker Offers Users One-click Control over Graphics Card Performances
The iTracker feature is a component of ASUS' exclusive SHE technology, and offers four default profiles for gamers who desire one-click control over their graphics card's performance: Optimized Mode, Gaming Mode, Power Saving Mode, and Default mode. This handy application is also able to display real-time graphics card information that includes the GPU/shader/memory clock, GPU/memory voltage, GPU loading, GPU/memory/power IC/ambient temperature, and fan speed—serving as a one-stop, complete system information portal. In addition, the fifth profile—User Defined Mode—enables real-time adjustments to the GPU/shader/memory clock, GPU/memory voltage, and fan speeds to suit different individual requirements.

Up to 17% Faster in 3D Mode
GPU and memory voltages are boosted from 1.265V/1.5V to 1.423V/1.58V; and from 1.245V/1.979V to 1.303V/2.052V respectively when the ROG EAH4870 MATRIX and EAH4850 MATRIX are running in 3D mode. This allows the GPU and memory clock performance of the ROG EAH4870 MATRIX and EAH4850 MATRIX to be boosted from 750MHz/1800MHz to 855MHz/2014MHz; and from 625MHz/1986MHz to 752MHz/2057MHz respectively. Such unprecedented performance upgrades help raise the ROG EAH4870 MATRIX and EAH4850 MATRIX's 3DMark Vantage Extreme Mode score from 3655 to 4195 and from 2910 to 3395—an unbelievable 15% and 17% speed improvement when compared to any other reference designed board. Gamers can now feel the adrenaline rush afforded by true-to-life graphics performance—only with the ASUS ROG EAH4870 MATRIX and EAH4850 MATRIX.

Up to 54% Power Saved and Quiet Cooling in 2D Mode
In 2D mode, when less power consumption is required, the ROG EAH4870 MATRIX and EAH4850 MATRIX are able to reduce GPU and memory voltages from 1.316V/1.52V down to 1.1V/1.353V; and from 1.245V/1.979V to 1.15V/1.9V respectively for great energy savings. Furthermore, Auto Phase Switch technology optimizes the power supplied by the power phase for maximum power efficiency. In combining the exceptional voltage reduction with Auto Phase Switch technology, the ROG EAH4870 MATRIX and EAH4850 MATRIX's power consumption are lowered from 72.02W to 33.53W and from 51.36V to 36.99V respectively—an astonishing 54% and 28% in power savings when compared to any other reference designed board. Additionally, both Hybrid Cooler+ and Hybrid Cooler will help reduce fan rotation speeds in 2D mode, allowing users to enjoy much quieter cooling for comfortable computing environments.





Source: ASUS Press Release
Links


Tags: asus | card | hd | matrix | rog