Con il comunicato stampa di seguito allegato, S3 Graphics ha annunciato la nuova generazione di gpu Chrome 500, le prime in assoluto del catalogo S3 a supportare in hardware le API DirectX 10.1 di Microsoft, oltreché Shader Model 4.1 e OpenGL 3.0.
Al momento la linea Chrome 500, che il produttore indica come particolarmente idonea al playback dei Blu-ray, essendo compliant con le decodifiche di H.264, MPEG-2, VC-1, WMV-HD e AVS, comprende un solo prodotto, la Chrome 530, che è peraltro già acquistabile presso lo store on line del produttore, a fronte di un investimento di $44.95 (tale cifra è anche l'MSRP ufficiale).
La nuova video card costruita intorno alla Chrome 530 (cfr. la foto seguente) è siglata Chrome 530 GT HDMI 512MB; la gpu ha una frequenza di clock pari a 625MHz, la memoria - di tipo G-DDR2, con clock fisico pari a 500MHz e bus di interfaccia con il core grafico pari a 64-bit - ha una dimensione di 512MB e il RAMDAC è a 400MHz/10-bit. L'interfaccia verso il mondo è stata implementata in maniera conforme con PCI Express 2.0 x16.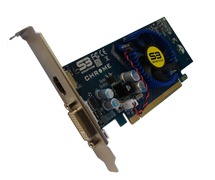 Fremont, California, 20 November 2008 - S3 Graphics today announced its next generation Chrome 500 graphics processors, building upon the success of a product family based on the most power-efficient GPU architecture on the market. Today's users will now be able to enjoy the latest Blu-ray playback, streaming HD video, DirectX 10.1, and OpenGL 3.0 applications on Microsoft Windows and Linux platforms.
Today's PC users are demanding more application processing power than ever before as HD video and graphics accelerate the user experience. With the Chrome 500 Series, you can enjoy Hi-Def Blu-ray movies and watch bonus features with Picture-in-Picture while enjoying 8 channels of high fidelity audio with the S3 Graphics' built-in Dolby 7.1 digital surround sound processor. DirectX, OpenGL, and GPGPU applications can be efficiently processed with programmable shader cores to speed-up 3D and non-gaming functions.
Add-in cards featuring the first graphics accelerators from the new Chrome 500 series, the Chrome 530 GT, are available now on S3 Graphics GStore online retail outlet.
"S3 Graphics has built upon the success of the Chrome 400 Series with another GPU line that fulfills user demand of a superior visual experience and product that extends beyond just graphics," said Dr. Ken Weng, GM for S3 Graphics. "Our latest Chrome 500 supports features that surpass those found in higher end products, like high quality HD video support. This truly is a power-efficient multimedia / multi-application processor that delivers."
S3 Graphics Chrome 500 Series Highlights
Microsoft DirectX 10.1+ / OpenGL 3.0 Support: Chrome 500 supports the latest DirectX 10.1+ and OpenGL 3.0 graphics requirements to support the latest applications. Real-life 3D rendering and increased visual quality through improved Anti-aliasing (AA), Image/Texture improvements, higher precision formats, and programmable lighting effects allow users to experience the next level of 3D graphics.
GPGPU (General Purpose GPU) Technology: Utilizing an array of S3 stream processors, the Chrome GPUs can accelerate parallel data workloads and perform work on thousands of concurrent threads to achieve Gigaflops (GFLOPS) of high-throughput computations. Applications that can utilize S3 GPGPU technologies include image processing, video transcoding, game physics, and many more.
ChromotionHD Video Technology: Designed to offload video processing from the CPU and save overall system power, the ChromotionHD engine supports the latest HD standards including H.264, MPEG-2, VC-1, WMV-HD, and AVS, for a stunning movie experience and dual-stream, Picture-in-Picture (PiP) Blu-ray playback.
Advanced Display and Audio Integration: Chrome 500 Series processors incorporate DisplayPort with HDCP, HDMI with HDCP, dual-link DVI with HDCP, and dual-channel LVDS transmitters for complete connectivity to a full range of digital monitors and panels. Integrated Dolby 7.1 digital surround sound and HD Audio controllers are supported natively in the GPU.
PCI Express2.0: Chrome 500 Series GPUs support the latest high throughput PCI Express 2.0 bus technology for bandwidth intensive applications and games. The faster connection speed also allows users to take advantage of additional S3 Graphics technologies such as AcceleRAM which leverages system memory for image data storage, and MultiChrome Multi-GPU technology to unleash almost twice the 3D rendering performance on games.
For more details about S3 Graphics Chrome 500 series processors please visit:
http://www.s3graphics.com/en/products/desktop/chrome_500/index.jsp.

S3 Graphics Chrome 530 GT Graphics Card

The first product introduced to the market in the Chrome 500 Series, the S3 Graphics Chrome 530 GT takes Blu-ray viewing to new heights with an upgraded video core capable of dual-stream, PiP Blu-ray playback at lower power and clock speeds.

Equipped with HDCP capable DVI-I and HDMI ports, the Chrome 530 GT supports DirectX 10.1 and OpenGL 3.0 applications and consumes under 25W of power, making it ideal as the graphics of choice for HTPC (home theatre PCs), DIY enthusiasts, and existing PC users looking for the best bang for the buck upgrade.

The Chrome 530 GT add-in card is available now for just $44.95 on the GStore online retail outlet. Find out more about this product on the S3 Graphics website at:
http://www.s3graphics.com/en/products/desktop/chrome_530gt/index.jsp





Source: S3 Graphics Press Release
Links


Tags: chrome | directx | gpu | grafica | s3