POINT OF VIEW ha annunciato la realizzazione di una serie di schede grafiche in versione Retail caratterizzate dall'abbinamento con il game Brother in Arms: Hellís Highway in versione Full.
Le video card interessate dall'iniziativa sono essenzialmente prodotti GeForce appartenenti alle linee GeForce 9 e GeForce 200, dal momento che possono vantare il pieno supporto di DirectX 10, Shader model 4.0 e High Definition Playback.
Segue l'elenco dei bundle, in cui ogni voce Ť composta dal product number e dalla scheda video inclusa nel bundle.
R-VGA150913-BIA <-> GeForce 9800 GT 1GB DDR3
R-VGA150902-BIA <-> GeForce 9800 GT 1GB DDR3
R-VGA150900H+BIA <-> GeForce 9800 GTX+
R-VGA150911XF-BIA <-> GeForce GTX 260 Premium
R-VGA150911XF-XBIA <-> GeForce GTX 260 Premium EXO Edition
R-VGA150910F-BIA <-> GeForce GTX 280
R-VGA150910F-XBIA <-> GeForce GTX 280 EXO Edition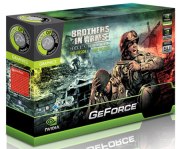 [Immagine ad alta risoluzione]

POINT OF VIEW, well known for its range of NVIDIA based Graphics cards, is announcing today the release of the Special Edition game bundle of Brother in Arms: Hellís Highway.
The Brother in Arms series is one of the most critically acclaimed historically accurate war-sim games. With the latest installment: Hellís Highway, Ubisoft really has raised the bar for this type of games. The game Brother in Arms: Hellís Highway takes place in 1944, during the liberation of the Netherlands in the Second World War. The game tells the story of Operation Market Garden, the journey from Eindhoven; where Point of Viewís headquarters is located, to Arnhem. Road 69; the road from Eindhoven to Arnhem was later nicknamed: Hellís Highway.
On of the most impressive details is that the area of Operating Market garden was completely reconstructed by historical documents and images. The authentic feeling when you walk through the Dutch streets of more than 60 years ago is really uncanny. Street signs, building structures, clothing and even the clinker bricks on the roads dispense a true authentic mood.
Furthermore the game is packed with hardcore ragdoll effects, a destroyable covering system and innovative adrenaline effects system. To boost these effects, the game also has native support for the Philips amBX system.
Get the most out of the game with the Point of View GeForce 9 and 200 Series graphics cards, supporting DirectX 10, Shader model 4.0 and High Definition movie support. The bundle will be available with graphics cards from GeForce 9800 GT and up. Keep your eyes open for the Special box of this ultimate gaming bundle or contact your POV retailer for more information and availability.
The Brothers in Arms: Hellís Highway bundle will also be available in the unique POV / Philips / Ubisoft bundle, containing a GeForce 9500 GT 512mb DDR3 or GeForce 9600GT 512mb DDR3 graphics card, the Philips amBX sound and lighting system and a full version of the game.
Product codes:
R-VGA150913-BIA bundle with GeForce 9800 GT 1GB DDR3
R-VGA150902-BIA bundle with GeForce 9800 GT 1GB DDR3
R-VGA150900H+BIA bundle with GeForce 9800 GTX+
R-VGA150911XF-BIA bundle with GeForce GTX 260 Premium
R-VGA150911XF-XBIA bundle with GeForce GTX 260 Premium EXO Edition
R-VGA150910F-BIA bundle with GeForce GTX 280
R-VGA150910F-XBIA bundle with GeForce GTX 280 EXO Edition