Con il comunicato stampa di seguito allegato, NEC Display Solutions of America ha lanciato il monitor LCD widescreen da 22" siglato MultiSync EA221WM. Si tratta del secondo prodotto della nuova linea MultiSync EA, il cui debutto sul mercato č avvenuto lo scorso Giugno con il display da 26-inch siglato EA261WM.
In piena sintonia con la gamma di appartenenza, il MultiSync EA221WM č un LCD di fascia medio-alta, capace di vantare un tempo di risposta pari a 5ms, un angolo visivo di 176° e un rapporto di contrasto di 1000:1. Il monitor č anche compliant con ENERGY STAR, e dunque rispetta l'ambiente in accordo alle direttive degli enti statunitensi U.S. Environmental Protection Agency e the U.S. Department of Energy.
La nuova soluzione NEC arriverā sul mercato USA durante il mese corrente con un MSRP pari a $389.99.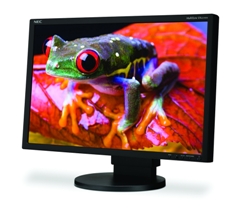 [Immagine ad alta risoluzione]

CHICAGO--(BUSINESS WIRE)--NEC Display Solutions of America, a leading stand-alone provider of commercial and residential LCD and plasma displays and projectors, announced today the launch of its new 22-inch MultiSync EA221WM widescreen LCD monitor. This is the second MultiSync EA Series product to be introduced following the launch of the 26-inch EA261WM in June.
The MultiSync EA221WM is a premium enterprise display built with top-performing panel technology, and boasting a 5ms response time, a wide-viewing angle of up to 176 degrees and an ultra-high contrast ratio of 1000:1 for optimized image quality. Functionality is enhanced by the four-way ergonomic capability (height, swivel, tilt, pivot/portrait), a four-port USB hub, built-in multimedia speakers and cutting-edge technologies. Its widescreen design complements the growing trend of wide-format applications and helps users realize greater productivity, especially when viewing spreadsheets, Internet pages and extended emails, as well as working simultaneously in multiple/side-by-side application windows.
"The new MultiSync EA Series brings premium NEC quality to those users who demand exceptional technology, rich features, top performance and high productivity," said Lynn Gu, Product Manager at NEC Display Solutions. "The full ergonomics and outstanding image quality built into this display make a big difference in the user's experience. The MultiSync EA221WM is also designed with the environment in mind as environmental stewardship is critical to keeping our customers competitive in today's business climate."
Building on its environmental leadership, NEC has registered the MultiSync EA221WM display as EPEAT Gold. As an EPEAT requirement, the MultiSync EA221WM also is ENERGY STAR® compliant. Products that earn the ENERGY STAR designation prevent greenhouse gas emissions by meeting strict energy efficiency guidelines set by the U.S. Environmental Protection Agency and the U.S. Department of Energy. By leveraging NEC's ECO Mode™, users can lower power consumption and the amount of waste heat released into the environment. The built-in carbon footprint meter informs and motivates responsible use of the display by calculating and tracking carbon savings.
The MultiSync EA221WM display includes the following features:
1680 x 1050 resolution (WSXGA)
250 cd/m² brightness and 1000:1 contrast ratio
5ms response time
4-way adjustable stand (110mm height, tilt, swivel, pivot)
New cabinet design with intuitive, multi-directional NaViKey™
Down-firing speakers with headphone jack
4-port USB 2.0 hub
HDCP via DVI
HDMI-capable via adapter
Dynamic Video Mode with five settings
ECO Mode™ and carbon footprint meter
Ambix® digital DVI and analog inputs
Built-in carrying handle
Cable Management Cover
EPEAT Gold registered
Windows Vista™ premium
The MultiSync EA221WM display comes with a three-year parts, labor and backlight warranty, and an extended warranty is available. The display will be available for shipment this month at an estimated street price of $389.99.





Source: NEC Press Release
Links


Tags: lcd | monitor | multisync | nec | widescreen