Zotac ha lanciato due schede grafiche basate sul processore grafico GeForce 9400GT di NVIDIA. Le nuove video card sono siglate rispettivamente ZOTAC GeForce 9400GT DDR2 e ZOTAC GeForce 9400GT DDR2 ZONE Edition. I punti in comune sono moltissimi, dal momento che esse differiscono essenzialmente per il sistema di raffreddamento, che è attivo e a single-slot nel primo caso e passivo e a dual-slot nel secondo.
La GeForce 9400GT ZONE Edition è consigliabile agli utenti che necessitano di una scheda video che non generi rumore poichè, ad esempio, è destinata alla installazione in un HTPC (Home Theater Personal Computer) da salotto. Per il resto, le due varianti sono equipaggiate con 512MB di RAM G-DDR2 a 800MHz mentre il core grafico, in accordo alle impostazioni di riferimento, lavora a 550MHz. L'interfaccia tra V-RAM e gpu è a 128-bit.
Tra le tecnologie supportate citiamo PCI Express 2.0, DirectX 10 con Shader Model 4.0, OpenGL 2.1 e PureVideo HD.
ZOTAC GeForce 9400GT DDR2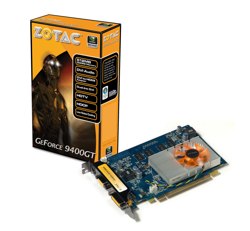 [Immagine ad alta risoluzione]
ZOTAC GeForce 9400GT DDR2 ZONE Edition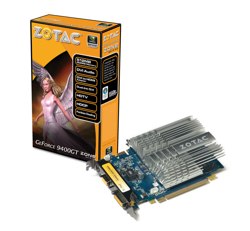 [Immagine ad alta risoluzione]

HONG KONG – Aug. 26, 2008 – ZOTAC International, a leading manufacturer of NVIDIA-based graphics cards, today unleashes its latest entry-level GeForce 9 series graphics cards for budget gamers on the second day of NVISION 08 – the ZOTAC GeForce 9400GT DDR2 and GeForce 9400GT DDR2 ZONE Edition. The new ZOTAC GeForce 9400GT DDR2 series enables users to bring their PCs to life with NVIDIA PureVideo HD technology and NVIDIA unified architecture for smoother high-definition video playback and realistic gaming capabilities.
NVIDIA PureVideo HD technology empowers the ZOTAC GeForce 9400GT DDR2 series with high-definition playback capabilities that's low on CPU utilization and low on power consumption, freeing up the system processor for more mundane tasks and reducing your power bill. PureVideo HD technology also enhances standard-definition content with inverse telecine, high-quality scaling, noise reduction and edge enhancement algorithms to produce vivid visuals that rivals high-definition content.
"Video playback capabilities are becoming a vital part of graphics cards as more and more users make their PCs the center of their entertainment center, using their PC to playback high-definition Blu-ray and standard-definition videos. Our ZOTAC GeForce 9400GT DDR2 series with PureVideo HD technology will instantly enhance their video playback capabilities at a fairly low-cost," said Carsten Berger, marketing director, ZOTAC International.
The ZOTAC GeForce 9400GT DDR2 series features NVIDIA unified architecture with 16 programmable stream processors for high-performance 3D graphics processing. Full support for Microsoft DirectX 10 with Shader Model 4.0 and OpenGL 2.1 standards ensure maximal compatibility with current and next-generation 3D games and applications.
The powerful NVIDIA GeForce 9400GT graphics processor is paired with 512MB of fast DDR2 memory connected via 128-bit wide bus for phenomenal visuals and performance. The fast graphics processor and high-speed memory connects to the rest of the system via a PCI Express 2.0 interface for up to 5GT/s transfers between the system processor and memory to the graphics card.
The ZOTAC GeForce 9400GT DDR2 ZONE Edition replaces the conventional single-slot active cooler on the GeForce 9400GT DDR2 with a silent dual-slot passive cooler. The ZOTAC GeForce 9400GT DDR2 ZONE Edition cooler caters to the noise needs of quiet PC users while delivering the same performance users expect from a ZOTAC GeForce series graphics cards.
"Quiet computing has become quite popular as users find different ways to reduce overall system noise. Our ZOTAC GeForce 9400GT DDR2 ZONE Edition delivers the silence quiet PC users need with no performance compromises," Mr. Berger said.
It's time to play with the new affordable ZOTAC GeForce 9400GT DDR2 and silent GeForce 9400GT DDR2 ZONE Edition.
General details
New ZOTAC GeForce 9400GT DDR2 and GeForce 9400GT DDR2 ZONE Edition
Affordable and high performance
NVIDIA GeForce 9400GT
512MB of GDDR2 memory
16 stream processors
Passive cooling (ZONE Edition)
PCI Express 2.0 interface (Compatible with 1.1)
DirectX 10 with Shader Model 4.0 compatible
OpenGL 2.1 compatible
PureVideo HD technology with hardware decoding of high-definition video formats
Dual-link DVI – up to 2560x1600
DVI to HDMI dongle included
DVI Audio (HDMI) compatible




Source: Zotac Press Release
Links