NVIDIA ha annunciato una nuova linea di GPU per sistemi orientati all'ambito notebook di livello professionale, guidata dal processore grafico Quadro FX 3700M, che è dotato di ben 128 unità dedicate al CUDA Parallel Computing ed è in grado di gestire 1GB di RAM dedicata. In accordo a Jeff Brown, un manager delle Professional Solutions in NVIDIA "la nuova gpu Quadro FX 3700M rende i computer portatili delle vere e proprie workstation, che permettono ai professionisti di lavorare sempre e dovunque".
NVIDIA ha inoltre reso noto che le nuove gpu sono già incluse in alcuni dei notebook di fascia alta commercializzati da system builder di livello internazionale come Dell, Fujitsu Siemens Computers, HP e Lenovo.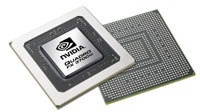 [Immagine ad alta risoluzione]

SIGGRAPH 2008—LOS ANGELES, CA—August 12, 2008—Demand for better graphics performance and programmability within the professional notebook market continues to increase as animators, designers and engineers work with larger 3D models, datasets and images. NVIDIA Corporation, the worldwide leader in visual computing technologies, continues to address the demand with the introduction of a new series of NVIDIA Quadro FX mobile GPUs, featuring an NVIDIA CUDA Parallel Computing Processor. Leading workstation manufacturers such as Dell, Fujitsu Siemens Computers, HP and Lenovo are now offering the new series of Quadro FX mobile GPUs across a wide range of professional notebook workstations.
Highlighting the flagship product of the series is the Quadro FX 3700M, with 128 CUDA Parallel Computing Processor cores, which offers an unprecedented 1 GB of dedicated graphics memory for graphics-performance hungry industries such as oil and gas exploration, mechanical design and digital content creation. Now, the power of a desktop workstation is available in a compact, notebook configuration.
"Design professionals who rely on the performance and features of a desktop workstation can now get this same level of performance in a notebook," said Jeff Brown, general manager, Professional Solutions, NVIDIA. "With the new Quadro FX 3700M visual computing solution, the notebook becomes a powerful workstation, allowing professionals to work anywhere, at any time, without sacrificing graphics quality or performance."
Engineered to deliver high-performance visualization of large datasets with extremely high image quality in an ISV-certified notebook platform, these notebooks also feature:
Up to 1 GB GDDR3 memory
Up to 256-bit memory interface
Up to 51.2 GBps graphic memory bandwidth
OpenGL 2.1, Shader Model 4.0, and DirectX 10
PowerMizer 8.0 adaptive power management tools
Additionally, the Quadro FX 2700M GPU, with 48 CUDA Parallel Computing Processor cores and 512 MB of GDDR3 memory, is an ideal graphics solution for 17-inch notebook platforms targeting high-end design and content-creation applications. The Quadro FX 1700M GPU with 32 CUDA Parallel Computing Processor cores, the Quadro FX 770M GPU with 32 CUDA Parallel Computing Processor cores, and the Quadro FX 370M GPU with 8 CUDA Parallel Computing Processor cores, are designed for 15.4-inch and 14.1-inch notebooks, which help round out the new Intel Centrino II-based platforms.





Source: NVIDIA Press Release
Links


Tags: fx | gpu | nvidia | quadro | quadro fx 3700m