Con il comunicato stampa allegato di seguito, POINT OF VIEW ha lanciato la sua implementazione della scheda grafica GeForce 9500 GT. In accordo al produttore, questa video card è in grado di offrire il triplo delle prestazioni rispetto alle soluzioni di pari fascia basate, però, su una gpu di classe GeForce 8.

Al momento POINT OF VIEW ha commercializzato ben quattro varianti della scheda GeForce 9500GT, di seguito elencate.
R-VGA150909 GEFORCE 9500GT con 1024MB di RAM DDR2, 1X DVI and 1X HDMI
R-VGA150908 GEFORCE 9500GT con 512MB di RAM DDR2, 1X DVI and 1X HDMI
R-VGA150904 GEFORCE 9500GT con 512MB di RAM DDR3,1X DVI and 1X HDMI
R-VGA150903-EXO GEFORCE 9500GT con 256MB di RAM DDR3, 1X DVI and 1X HDMI
Sostanzialmente, il board-maker ha realizzato tutte le possibili implementazioni del design reference che NVIDIA ha previsto per la sua nuova gpu, al variare della tipologia (DDR2/DDR3) e del quantitativo (1024Mb, 512Mb e 256Mb) di RAM on-board.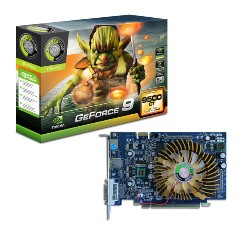 [Immagine ad alta risoluzione]

POINT OF VIEW, well known for its range of NVIDIA based Graphics cards, is launching today the GeForce 9500 GT. Your PC is now more visual than ever. Supercharge this visual experience with the NVIDIA GeForce 9500 GT GPU – there is no better investment to provide more vibrant photos, smoother videos, and more realistic gaming.
Improved 3D user experience with Windows Vista, including Windows MediaCenter. By offloading tasks from the CPU, GeForce 9500 GT allows you to increase your productivity by sharing, editing, and managing photos and videos with ease.
Featuring the revolutionary PureVideo HD technology engine, this GPU delivers astounding Blu-ray movie picture quality with reduced CPU utilization and low power consumption.
Spectacular picture clarity and vibrant color with PureVideo HD advanced video processing technology.
With GeForce 9500 GT, playing the latest immersive PC games won't cost you a bundle.
Up to a 3X performance increase over the comparable 8 Series GPU - GeForce 8500 GT.
Future-proof your PC with performance-enhancing technology
Double the power of a single graphics card with NVIDIA SLI technology.
The SLI- ready GeForce 9500 GT graphics card can be paired with an identical 9500 GT-based card for up to 2X the performance of a single card set-up. Compatible with PCI Express and the new PCI Express 2.0 bus architecture, GeForce 9500 GT offers a future-proofing bridge to tomorrow's most bandwidth-hungry games and 3D applications.
The POINT OF VIEW will deliver the 9500GT in different models.
R-VGA150909 GEFORCE 9500GT with 1024MB DDR2 memory, 1X DVI and 1X HDMI
R-VGA150908 GEFORCE 9500GT with 512MB DDR2 memory, 1X DVI and 1X HDMI
R-VGA150904 GEFORCE 9500GT with 512MB DDR3 memory,1X DVI and 1X HDMI
R-VGA150903-EXO GEFORCE 9500GT with 256MB DDR3 memory, 1X DVI and 1X HDMI
These cards are available from today. Visit the "Where to Buy" section of our website for a sales point in your country.





Source: POINT OF VIEW Press Release
Links


Tags: card | geforce | geforce 9500 gt | gt | nvidia | point of view | pov | video