Palit Microsystems ha lanciato la sua scheda grafica Palit GeForce 9800 GTX+. Con il comunicato stampa di seguito allegato il produttore ha posto l'accento sul supporto da parte della card delle tecnologie NVIDIA PhysX e NVIDIA CUDA, esaltandone dunque le capacità in ambito 3D Gaming con gestione della fisicità e dell'interazione con il mondo.
La gpu integrata sul PCB della Palit GeForce 9800 GTX+ ha una velocità di clock pari a 738MHz mentre gli shader lavorano a 1836MHz e la RAM on board, che è di tipo G-DDR3 ed ha una capacità di 512Mb, a 2200MHz. L'interfaccia tra il processore grafico e la memoria è però a 256-bit.
Arricchiscono la dotazione della scheda la tecnologia NVIDIA 3-way SLI e NVIDIA PureVideo di seconda generazione. Palit non ha reso noto l'MSRP del prodotto.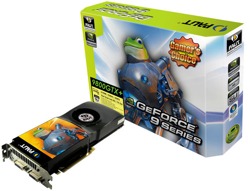 [Immagine ad alta risoluzione]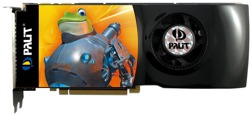 [Immagine ad alta risoluzione]

Palit Microsystems, leading graphics card manufacturer, today announces Palit GeForce 9800 GTX+. Armed with NVIDIA PhysX and NVIDIA CUDA technology the GeForce 9800 GTX+ is ready to enable a total new class of physical gaming interaction!
The Palit GeForce 9800 GTX+ features a core speed of 738MHz, a 1836MHz shader clock and 2,200 MHz on its 512 MB of GDDR3 memory with a 256bit interface, supports for the latest NVIDIA PhysX technology enables real-time physics simulations in leading edge PC and console games. It also supports NVIDIA CUDA technology, which unlocks the power of the GPU's processing cores to accelerate the most demanding system tasks-such as video transcoding to deliver up to 7x the performance over traditional CPUs.
Supports the HybridPower power management technology, Palit GeForce 9800GTX+ allows users to unleash graphics performance or opt for a quiet, low-power PC experience when using non graphically-intensive applications. The Palit GeForce 9800 GTX+ is not only for gaming, equipped with the second generation NVIDIA PureVideo.
Features
NVIDIA unified architecture
Fully unified shader core dynamically allocates processing power to geometry, vertex, physics, or pixel shading operations, delivering up to 2x the gaming performance of prior generation GPUs.
NVIDIA PhysX Ready
GeForce GPU support for NVIDIA PhysX technology, enabling a totally new class of physical gaming interaction for a more dynamic and realist experience with GeForce.
NVIDIA CUDA Technology
CUDA technology unlocks the power pf the GPU's processor cores to accelerate the most demanding system tasks-such as video transcoding- delivering up to 7x performance over traditional CPUs.
Full Microsoft DirectX 10 Support
World's first DirectX 10 GPU with full Shader Model 4.0 support delivers unparalleled levels of graphics realism and film-quality effects.
PCI Express 2.0 Support
Designed to sun perfectly with the new PCI Express 2.0 bus architecture, offering a future-proofing bridge to tomorrow's most bandwidth-hungry games and 3D applications by maximizing the 5GT/s PCI Express 2.0 bandwidth.
128-bit floating point High Dynamic-Range (HDR)
Twice the precision of prior generations for incredibly realistic lighting effects—now with support for anti-aliasing.
Dual Dual-link DVI Support
Able to drive the industries largest and highest resolution flat-panel displays up to 2560 x 1600.
Built for Microsoft Windows Vista
NVIDIA's fourth-generation GPU architecture built for Windows Vista gives users the best possible experience with the Windows Aero 3D graphical user interface, included in the new operating system (OS) from Microsoft.
NVIDIA PureVideo HD Technology
The combination of high-definition video decode acceleration and post-processing that delivers unprecedented picture clarity, smooth video, accurate color, and precise image scaling for movies and video.
3-way NVIDIA SLI Technology
Industry leading 3-way NVIDIA SLI technology offers amazing performance scaling by implementing AFR (Alternate Frame Rendering) under Windows Vista with solid, state-of-the-art drivers.
HybridPower Technology
HybridPower technology lets you switch from the GeForce 9800 GTX+ graphics card to the motherboard GeForce GPU when running non graphically-intensive applications for a silent, low power PC experience.
HDCP Capable
Design to meet the output protection management (HDCP) and security specification of the Blu-ray Disc and HD DVD formats, allowing the playback of encrypted movie content on PCs when connected to HDCP-compliant displays.




Source: Palit Microsystems Press Release
Links


Tags: card | geforce | geforce 9800 gtx | palit | video