Mediante il comunicato stampa di seguito allegato, Transcend Information ha lanciato il disco rigido esterno StoreJet 35 Ultra. La device, che misura 197.5mm x 127.5mm x 48mm, è collegabile ai sistemi hardware che eseguono un OS delle famiglie Windows, Mac e Linux mediante una porta eSATA oppure USB 2.0.
La duplice connettività garantisce da un lato le massime prestazioni possibili con eSATA a 3.0Gb/s e dall'altro la massima portabilità con USB 2.0 (in questo caso il transfer rate nominale scende bruscamente fino a 480Mb/s, ndr).
A caratterizzare fortemente il nuovo StoreJet 35 Ultra è senz'altro la vendola da 80m che è parte del sistema di raffreddamento e che permette al disco il mantenimento di un regime operativo fortemente orientato alla stabilità in ogni condizione operativa.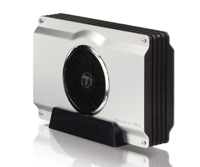 [Immagine ad alta risoluzione]

Transcend Information, Inc (Transcend), a global leader in the digital storage industry, proudly introduces its eSATA / USB 2.0 external storage device - StoreJet 35 Ultra. Cool, fast and quiet, the StoreJet 35 Ultra is the ultimate way to add an extra SATA hard drive to virtually any computer for downloading, storing, transferring and backing up data. The StoreJet 35 Ultra measures 197.5mm by 127.5mm by 48mm and features a stylishly designed aluminum case designed specifically for modern 3.5-inch SATA hard drives. With two convenient connection options, the StoreJet 35 Ultra not only guarantees the fastest possible hard drive speeds with its 3.0Gb/s eSATA interface, but also assures maximum compatibility with all types of computers via its 480Mb/s USB 2.0 connection interface. While most 3.5-inch external hard drives are prone to data-loss and drive failure due to overheating, Transcend's StoreJet 35 Ultra features an efficient active cooling system that includes an extra-quiet 80mm high-flow fan to keep its internal drive running cool and stable.
The StoreJet 35 Ultra not only makes external storage easier, but also more productive with its bundled StoreJet elite software that offers intelligent backup scheduling, security, and file compression functions. Transcend's StoreJet 35 Ultra supports all commonly used operating systems, including Windows 2000 / XP / Vista, Mac and Linux. Now available with either a pre-installed 500GB SATA hard drive, or without a drive as a high-performance external enclosure for installing your own 3.5" SATA hard drive.
Product Features
Stylish aluminum housing and anti-slip vertical stand
Works with all standard 3.5" SATA hard drives
Two connection options: eSATA or USB2.0
eSATA provides maximum performance up to 3.0Gb/s
Silent 80mm cooling fan reduces risk of HDD failure
LED indicates power on and data transfer activity
Includes Transcend's StoreJet elite software pack:
Backup data with advanced scheduling options
Restore whole hard drives, folders or individual files with intelligent file-overwrite protection
Save space and protect files with powerful encryption
Hot-swappable & plug-and-play
100% quality tested
Two-year warranty




Source: Transcend Press Release
Links


Tags: cooler | storejet | storejet 35 ultra | transcend