Kingston Technology ha annunciato nuovi moduli di RAM DDR3 collocati nella fascia media del mercato consumer ed indirizzati ai gamer e agli utenti mainstream pił in generale. I moduli, che appartengono alla linea HyperX, sono capaci di operare a 1600MHz con il seguente profilo di timing @ VDD: CL9-9-9-27 @ 1.7V-1.9V.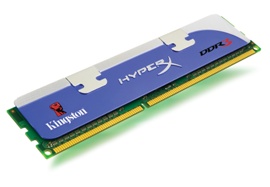 [Immagine ad alta risoluzione]
I moduli sono disponibili in bundle a unitą singola da 1Gb (sigla commerciale KHX12800D3/1G) e 2Gb (KHX12800D3/2G) e in kit per il montaggio in configurazione dual-channel da 2Gb (KHX12800D3K2/2G) e 4Gb (KHX12800D3K2/4G) rispettivamente. L'MSRP vaira da un minimo di $198 per il banco da 1Gb ad un massimo di $790 per il kit da 4Gb.

FOUNTAIN VALLEY, Calif. - Kingston Technology Company, Inc., the independent world leader in memory products, today announced the launch of 1600MHz HyperX DDR3 mid-range memory for gamers and mainstream users alike. Now shipping in 1GB and 2GB modules and 2GB and 4GB memory kits, the new HyperX modules bring the latest in DDR3 memory technology to more system builders and developers at economic price points.
"With more new chipsets able to take advantage of DDR3 memory, the time was right for Kingston to release 1600MHz modules to fill the need for an economic alternative to higher priced 1600MHz modules on the market," said Dara Sun, strategic alliance manager, Kingston®. "Our goal with this new offering is to meet the demand for a more mainstream performing DDR3 product while complementing our high frequency top-performing memory technology."
The latest entry in its DDR3 family of next-generation enthusiast memory, Kingston's 1600MHz DDR3 modules deliver optimum performance when paired with the latest DDR3 chipsets. Kingston released HyperX 1375MHz DDR3 during Computex 2007, followed by 1800MHz and low-latency 1625MHz DDR3 memory in October 2007. Kingston also makes DDR3 solutions that are Intel XMP and NVIDIA SLI certified and will soon debut HyperX SO-DIMMs for notebook systems.
Kingston 1600MHz HyperX DDR3 Specifications
Part Number
 
Capacity and Features
 

MSRP (U.S. only).

 

KHX12800D3/1G
 
1GB 1600MHz (CL9-9-9-27 @ 1.7-1.9v) module
 
$ 198.00
KHX12800D3/2G
 
2GB 1600MHz (CL9-9-9-27 @ 1.7-1.9v) module
 
$ 395.00
KHX12800D3K2/2G
 
2GB 1600MHz (CL9-9-9-27 @ 1.7-1.9v) kit of 2
 
$ 395.00
KHX12800D3K2/4G
 
4GB 1600MHz (CL9-9-9-27 @ 1.7-1.9v) kit of 2
 
$ 790.00
Kingston HyperX memory is backed by a lifetime warranty and free 24/7 technical support. For detailed information please visit the Kingston Web site at www.kingston.com.





Source: Kingston Press Release
Links