Destinata agli utenti che vogliono un PC completamente silenzioso, ASUS ha presentato oggi il suo ultimo dissipatore passivo: il V-Cool Heatsink, che sarà incorporato nelle schede video EAH3650 SILENT/HTDI/512M e EAH3650 SILENT/HTDI/256M. Basato sul concept V-Engine e sfruttando la tecnologia Intercooler, il V-Cool garantisce un assoluto silenzio e una dissipazione di calore efficiente che porta un'elevata stabilità operativa.


ASUS Launches EAH3650 SILENT Series with New V-Cool Heatsink for 0dB Cooling
Taipei, Taiwan, February 28, 2007 - Catering to users who require quiet computing environments, ASUS, producer of top quality graphic solutions has today introduced the latest thermal solution - the V-Cool Heatsink, which will be incorporated with the EAH3650 SILENT/HTDI/512M and EAH3650 SILENT/HTDI/256M graphic cards. Featuring the V-Engine concept and Intercooler technology, the V-Cool Heatsink guarantees an absolutely quiet and efficient heat dissipation that enables the most stable performance.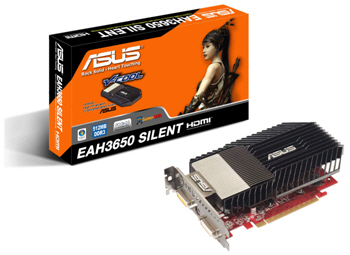 Extreme Cooling with Exclusive V-Cool Heatsink
As a testament to the unique, high-precision craftsmanship from ASUS, the V-Cool Heatsink's super racing car engine design combines a stylish outlook with powerful cooling performance. Phasing in the V-Engine concept*, the ideally arranged V-fins dissipate heat evenly with a minimum of space required. The high-density zipper array fin module also aids heat dissipation by utilizing the Intercooler technology** to maximize the surface area exposed to the air. Additionally, the heat pipe arrangement enables the average temperature on the heatsink to enhance the heat transfer effects. Last but not least, the special material aluminum alloy is much lighter and makes for good thermal conductivity to help heat dissipation.
Unprecedented Rock Solid Quality from ASUS
Keeping in line with ASUS' Rock Solid promise for quality, the EAH3650 SILENT Series will come with several solutions to provide top quality graphic performances. With the EMI shield, 3~10dB EMI Interference can be reduced for more stable signals; while the DIP Spring Chokes can lower temperatures by 5~10oC in comparison with traditional Toroidal Coil Chokes. Additionally, the Japan made polymer capacitors lowers power loss for more stable operations. Therefore, users will be able to enjoy extreme performance and have peace of mind only with the ASUS EAH3650 SILENT Series.
PCI Express 2.0 and 512MB Onboard Memory for Extreme Graphical Outputs
The ASUS EAH3650 SILENT Series comes with both PCI Express and PCI Express 2.0 support - enabling users to enjoy double the data rate of the popular serial bus for faster and better experiences. With 512MB worth of memory onboard the EAH3650 SILENT/HTDI/512M, performance ratings will be greatly enhanced, and users can now fully enjoy games or movies without lag or stuttering.
Exclusive ASUS GamerOSD for Versatile Graphics Usage
The ASUS EAH3650 SILENT Series also comes with the exclusive ASUS GamerOSD that unleashes the true power of ASUS' VGA cards. This feature is able to deliver GPU overclocking from onscreen displays during gameplay - allowing users real-time performance upgrades when they require it. Additionally, it also provides users with the option to record live gaming action or live broadcasting over the Internet with ease. Note: *A V-Engine means that the pistons are aligned so that they appear to be in a V when viewed along the axis of the crankshaft. The V configuration reduces the overall engine length and weight compared to an equivalent straight engine. **Intercooler Technology means that air flows over the outside of the intercooler's fins, which in turn cool the air inside the intercooler.
Specifications
Model
EAH3650 SILENT/HTDI/512M
EAH3650 SILENT/HTDI/256M
Graphics Engine
Radeon HD 3650
Radeon HD 3650
Video Memory
512MB DDR3
256MB DDR3
Engine Clock
725 MHz
725 MHz
Memory Clock
1.4 GHz (700 MHz DDR3)
1.6 GHz (800 MHz DDR3)
Memory Interface
128-bit
128-bit
DVI Max. Resolution
2560 * 1600
2560 * 1600
Bus Standard
PCI Express 2.0
PCI Express 2.0
DVI Output
DVI-I*2
DVI-I*2
HDMI Output
YES, via DVI to HDMI adaptor
YES, via DVI to HDMI adaptor
HDCP compliant
YES
YES
D-Sub Output
YES, via DVI to D-Sub adaptor
YES, via DVI to D-Sub adaptor
HDTV Output
YES, via HDTV Out cable
YES, via HDTV Out cable
TV Output
YES
YES
Adaptor/Cable Bundled
DVI to D-Sub adapter*1
DVI to HDMI adaptor*1
HDTV-out cable*1
DVI to D-Sub adapter*1
DVI to HDMI adaptor*1
HDTV-out cable*1
Specifications are subject to change without notice.

PCB color and bundled software versions are subject to change without notice.

Brand and product names mentioned are trademarks of their respective companies.





Source: ASUS Press Release
Links