Transcend Information Inc. (Transcend), leader globale nella produzione di moduli di memoria ad alta performanza, e' fiera di annunciare il suo ultimo prodotto della categoria: aXeRam 4GB Extreme Performance DDR2-1066+ kit a doppio canale con un'elevata qualita' del chip DRAM e custodia personalizzata in alluminio. Progettata per video giochi ad alta prestazione, le nuove aXeRam utilizzano il sistema di overclocking ad elevata stabilita'. Transcend's 4GB aXeRam DDR2-1066+ Extreme Performance kit include due 1066MHz testate e verificate con moduli 2GB DDR2-1066+ che fornisco prestazioni dual channel oltre I 17GB/s. Per assicurare la compatibilita' tutti i moduli aXeRam usano sei strutture PCBs completamente compatibili con lo standard JEDEC (Joint Electron Device Engineering Council). I 240 PIN Unbuffered DIMMs sono fatti con 16 chips ad elevata qualita' 128Mx8 DDR DRAM. Ciascun chip e' selezionato rispettando I piu' elevati standard di qualita' tecnica ed e' prodotto con il sistema standard Fine-Pitch Ball Grid Array (FBGA) che garantisce bassa dissipazione di calore interna, efficienza nel consumo e stabilita' in overclocking. Le memorie aXeRam DDR2-1066+ Transcend utilizzano il sistema Enhanced Performance Profiles (EPP) che permette l'utilizzo delle memorie sulle piu' diffuse e potenti schede madri in commercio. Soprattutto ad elevata prestazione della scheda video.
Il kit di memorie dual channel Transcend 4GB aXeRam DDR2-1066+ Extreme Performance sono particolarmente indicate nell'utilizzo di giochi 3D o software che richiedono elevate prestazioni grafiche. Le memorie Transcend sono costruite con I migliori materiali e chip disponibili sul mercato, lunghi test ne garantiscono l'affidabilita' d'uso in qualsiasi circostanza rispettando sempre elevate performanze. Tutte le memorie Transcend sono commercializzate con garanzia a vita e servizio globale d'assistenza. Riconosciute nel mondo per la loro affidabilita', elevata prestazione e stabilita', le memorie Transcend sono la scelta obbligata per qualsiasi utilizzo ad alto livello.
Caratteristiche del prodotto
Alta capacita' da 4GB per schede madri a dual channel.
Stabilita' 2.0V in operativita'.
Eccellente overclocking a 1066MHZ ed oltre.
Timing : 5-5-5-15 (CAS Latency :5)
Sistema EPP (Enhanced Performance Profiles) per facilita' di overclocking.
Realizzata per Windows Vista a 32-bit e 64-bit.
Alta efficienza della custodia in alluminio ed oro.
Performanza maggiorata per uscita doppia monitor.
Standard design JEDEC.
100% testate e verificate.
Garanzia a vita.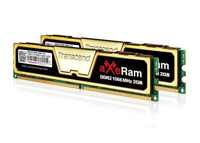 [Immagine ad alta risoluzione]

Transcend Information Inc. (Transcend), a global leader in the manufacture of high performance memory modules, is proud to unveil its latest memory innovation – a 4GB aXeRam Extreme Performance DDR2-1066+ dual-channel memory kit that uses only top-binned, premium quality DRAM chips and custom polished aluminum heat sinks. Designed specifically for gamers and power users, aXeRam memory delivers amazing overclocking performance while maintaining rock-solid system stability.
Transcend's 4GB aXeRam DDR2-1066+ Extreme Performance kit includes a matching pair of 1066MHz tested and verified 2GB DDR2-1066+ modules which provide dual-channel memory bandwidth of up to 17GB/s. To ensure compatibility, all aXeRam modules use robust six-layer PCBs that fully comply with JEDEC the Joint Electron Device Engineering Councilstandards. The 240-pin Unbuffered DIMMs included in the kit are each made of 16 high-quality 128Mx8 DDR2 DRAM chips. Each chip is selected with the strictest quality and performance standards and is manufactured using small Fine-Pitch Ball Grid Array (FBGA) packages to assure better thermal dissipation, electrical efficiency and improved overclocking performance. Transcend's aXeRam DDR2-1066+ memory includes Enhanced Performance Profiles (EPP), which allow users to automatically configure EPP-enabled motherboards with aggressive memory settings for better memory and system performance, especially when using dual video cards.
Transcend's 4GB aXeRam DDR2-1066+ Extreme Performance dual-channel kit's two identically matched 2GB modules are specifically designed for use in dual-channel configuration. Enthusiasts will appreciate the included custom high-purity aluminum heat sinks with distinctive gold and black styling and superior heat diffusion characteristics. Whether playing intense 3D games or stressing your system with heavy-duty software applications, Transcend's 4GB aXeRam 1066+ kit will give you the extra power you need – especially with Windows Vista 64-bit operating systems.
Transcend's memory modules are built to the highest specifications with the finest chips and materials available, and they undergo strenuous laboratory testing to ensure they provide the best performance possible. All Transcend memory modules come with a lifetime warranty and the support of a global service network. Recognized worldwide for their reliable high quality, outstanding performance, excellent compatibility, and stable operation, Transcend memory modules are the obvious choice of discerning power users.
Product Features
High capacity 4GB kit enhanced for dual channel motherboard
Stable 2.0V operation
Excellent overclocking performance at 1066MHz and beyond
Timing:5-5-5-15(CAS Latency:5
Includes EPP(Enhanced Performance Profilesfor easy overclocking
Enhanced for Windows Vista 32-bit and 64-bit operating systems
High-efficiency custom designed black and gold aluminum heat sinks
Improved performance and compatibility for dual video card setups
JEDEC standard design
100% tested and verified
Lifetime warranty




Source: Transcend Press Release
Links


Tags: ddr2 | extreme | performance | transcend