Poche ore dopo la comparsa in rete della prima foto capace di immortalare il rivoluzionario sistema di raffreddamento a slot singolo, basato sulla tecnologia VCT (Vapor Chamber Technology) e messo a punto da Sapphire per la sua nuova Radeon HD 3870 Atomic Edition (cfr. questa notizia), è arrivata anche la prima review dedicata a questa video card, la cui gpu è configurata per operare ad una frequenza più elevata di quella tipica per una Radeon HD 3870 standard. Per fissare le idee, il core della gpu della Radeon HD 3870 Atomic Edition di Sapphire lavora infatti a 825MHz mentre il valore reference del clock del core è pari 775MHz.
[Immagine ad alta risoluzione]
Le prestazioni della scheda grafica, che è equipaggiata con 512Mb di RAM, sono state confrontate con quelle esibite da una Radeon HD 3870 standard, da una Radeon HD 3850 e da una GeForce 8800 GT, utilizzando come piattaforma hardware di misurazione un sistema basato sulla motherboard K9A2 Platinum di MSI e sulla cpu Phenom 9600 di AMD e come tool di benchmark i game Crysis, Knights of the Sea, Bioshock, Call of Duty 4, World in Conflict, Call of Jaurez ed il software di testing 3DMark 06 Professional.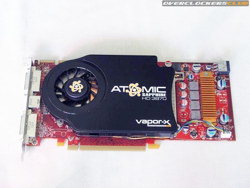 [Immagine ad alta risoluzione]

La Radeon HD 3870 Atomic Edition non si è però dimostrata in grado di distanziare in maniera netta la concorrenza: alle prestazioni da top performer messe in mostra con Crysis, World In Conflict e Call of Jaurez, si è alternata la superiorità della GeForce 8800 GT con Bioshock e Call of Duty 4. Buona la risposta della HD 3870 Atomic con l'ormai obsoleto 3DMark06 mentre il divario con la HD 3870 standard non è risultato sempre netto.





Collegamenti


Tags: geforce | gt | hd | radeon | sapphire