Windows Vista sta trovando sostenitori o ammiratori, più o meno acclamati, anche nel mondo Open Source; questa considerazione può sembrare paradossale ma non è tuttavia troppo lontana dal vero ove si pensi che è stata messa a punto di recente la release 0.94, ed è attesa a giorni la 0.95, di una nuova distribuzione Linux, basata su Fedora, chiamata, non a caso, Vixta.

Il progetto Vixta è supportato da Sourceforge, che può essere ritenuta come la principale finestra sul mondo per numerosissimi progetti Open Source, di piccola, media e grande rilevanza. In accordo alle intenzioni degli sviluppatori, Vixta deve essere letteralmente:

1. "Absolutely free, in every sense";
2. "Spread Linux to the "masses";
3. "ABN – Absolutely No Config.";
4. "User-Friendly";
5. "Eye-catching. Familiar look and feel".


E dunque gratuito, capace di favorire la diffusione di Linux, semplice da configurare ed utilizzare, ed in ultima analisi esteticamente coinvolgente. E molto vicino, aggiungiamo noi, oltreché nel nome anche nell'aspetto a Windows Vista di Microsoft, come si può evincere dal seguente screenshot del suo desktop.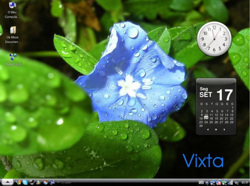 [Immagine ad alta risoluzione]





Collegamenti


Tags: distrubuzione | linux | vista | vixta