Halo 3 è stato più volte etichettato come un titolo destinato a cambiare volto al gaming su console, non solo dal punto di vista tecnico e tecnologico ma anche, e soprattutto, in termini commerciali. E in quest'ottica il game per Xbox 360 non ha deluso le attese: ad annunciarlo è stata la stessa Microsoft che, con il comunicato stampa di seguito allegato, ha reso noto al grande pubblico che nella prima settimana di permanenza sul mercato - Halo 3 è stato commercializzato il 25 Settembre, ndr - sono stati incassati più di 300 milioni di dollari per le copie vendute.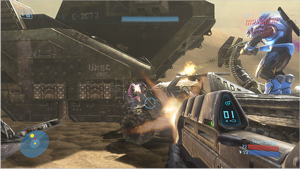 [Immagine ad alta risoluzione]
Poichè il dato è esteso a tutto il mondo, fermo restando il pesante contributo proveniente dai consumatori USA, arrivati ad acquistare copie di Halo 3 per 170 milioni di dollari nelle 24 ore successive al suo lancio, Microsoft non ha esitato a definire questo titolo un "fenomeno globale" senza precedenti non solo nel settore dei videogame ma nell'entertainment in generale. A questo punto i record di vendite fatti registrare da opere cinematografiche del calibro di "Spider-Man 3" e "Harry Potter and the Deathly Hallows" sono già un pallido ricordo.

REDMOND, Wash. — Oct. 4, 2007 — Interactive entertainment will never be the same, with the launch of one title that has changed the way the world thinks about video games. "Halo 3" has captured the attention of consumers worldwide and has made history as one of the biggest entertainment launches of all time.

Microsoft Corp. today announced that "Halo 3" has officially become a global phenomenon, garnering more than $300 million in sales in the first week alone. The critically acclaimed Xbox 360 exclusive, which was released worldwide on Tuesday, Sept. 25, is the fastest-selling video game ever and already one of the most successful entertainment properties in history.

Initial reports from retailers worldwide show console sales have more than doubled compared with the weekly average before the launch of "Halo 3." With games such as "Halo 3," "Madden 08" (EA Sports), "Mass Effect" (Microsoft Game Studios) and "Rock Band" (Harmonix), Xbox 360 has the greatest lineup in the history of video games and is the only console where consumers can play all the year's biggest blockbusters.

"'Halo' is truly a cultural phenomenon, and the launch of 'Halo 3' is an important milestone for Xbox 360 and for video games as entertainment and as an art form," said Bill Gates, chairman of Microsoft. "'Halo 3' embodies our vision for the future of entertainment, where some of the world's greatest creative minds will deliver a new generation of interactive storytelling."

"Halo 3" is quickly staking its place as the most popular Xbox LIVE game in history with members gathering in record numbers to play on the world's largest online gaming and entertainment network on TV. More than 2.7 million gamers have played "Halo 3" on Xbox LIVE in the first week, representing nearly one-third of the 7 million Xbox LIVE members worldwide. Within the first day of its launch, "Halo 3" players worldwide racked up more than 3.6 million hours of online gameplay, which increased more than elevenfold to 40 million hours by the end of the first week, representing more than 4,500 years of continuous gameplay. Since "Halo 3 launched," gamers have unlocked nearly 30 million achievements. In its first week alone, "Halo 3" drove a record number of Xbox LIVE Gold Memberships as hundreds of thousands of new members gathered online with friends, family members and other gamers around the world to collectively compete and complete the game.

"Halo 3" is the conclusion to the epic trilogy and picks up where "Halo 2" left off, answering questions about the fates of the beloved protagonist Master Chief™ and his artificial intelligence sidekick Cortana as they struggle to save humankind from destruction at the hands of the alien coalition known as the Covenant. In addition to the rich storyline, "Halo 3" continues the franchise's grand tradition of delivering innovative online multiplayer experiences via Xbox LIVE. The game's online multiplayer and innovative four-player cooperative gameplay for Xbox LIVE Gold users, the much-talked-about Saved Films feature that enables players to capture and save their favorite moments on their hard drives, and Forge, an innovative map editor that enables myriad customization options, are just some of the new features gamers are experiencing.

Developed by Bungie Studios and published by Microsoft Game Studios, the "Halo" franchise is exclusive to the Xbox 360 video game and entertainment system and optimized for the Xbox LIVE online entertainment network. "Halo 3" was released in 37 countries and 17 languages. To date, more than 20 million copies of the games in the "Halo" trilogy have been sold worldwide.

Record week-one sales come on the heels of the previously announced $170 million in sales in the U.S. within the first 24 hours of the game's release, which marked not just the biggest video game launch, but the biggest entertainment launch in history. The Xbox 360 title beat previous U.S. sales records set by blockbuster openings for entertainment events such as the release of "Spider-Man 3" and "Harry Potter and the Deathly Hallows." In addition, more than 1.7 million copies of "Halo 3" were pre-ordered in the United States, making it the fastest pre-selling game in history, surpassing the previous record-setting pre-sales of "Halo 2."





Source: Microsoft Press Release
Links