E' di ASUS la prima motherboard capace di ospitare il nuovo chip-set X38 Express di Intel e dotata di supporto per le cpu, peraltro ancora "in arrivo", in architettura Penryn e tecnologia a 45nm.
HotHardware è stato il primo sito a diffondere nel Web foto e specifiche della nuova ASUS P5E3 Deluxe (cfr. immagini seguenti); tra le feature che marcano con più evidenza il salto generazionale innescato da una piattaforma di questo tipo vi è, oltre all'integrazione della coppia di circuiti integrati X38 e ICH9R come NorthBrigde e SouthBridge, il supporto delle memorie centrali DDR3 a 1333Mhz e di una frequenza di FSB che può arrivare a 1600MHz.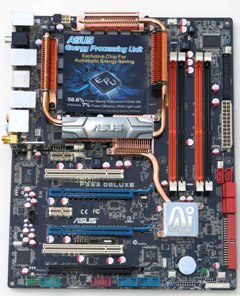 [Immagine ad alta risoluzione]
Questo l'elenco completo delle specifiche pubblicate dalla fonte:
System Bus Support - 1600,1333, 1066, 800
4xDIMMs, max 8GB supported memory - up to DDR3-1333
3x PCI-E X16 slots (blue PCIe 2.0 X16 mode, black PCIe X4 or X1)
2x PCIe X1
2x PCI
6 SATA 3Gpx ports - RAID 5, 0, 1, 10
Dual Gig-E LAN
Asus WiFi AP @n, 300Mbps 802.11n with Software Access Point
ADI1988B 8-channel High Def Audio CODEC
USB2.0 and Firewire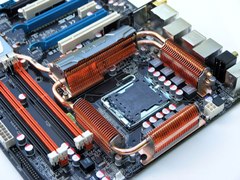 [Immagine ad alta risoluzione]
Ma le caratteristiche più interessanti di questa mobo sono legate alle tecnologie proprietarie ASUS Express Gate e EPU o Energy Processing Unit. Mediante la prima è stato implementato un ambiente di lavoro, caricato prima del Sistema Operativo, che rende disponibili alcune funzionalità di alto livello, come la connettività a Internet (Web e Skype), oltreché l'accesso al bios. Ancora, la ASUS P5E3 Deluxe è provvista di un microcontroller (EPU) utilizzato per monitorare e regolare opportunamente la tensione della cpu, aumentandone l'efficienza e la stabilità e risparmiando preziosa energia.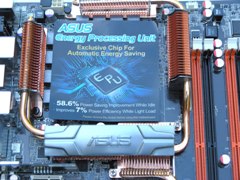 [Immagine ad alta risoluzione]





Collegamenti


Tags: asus | chipset | deluxe | foto | intel x38 | p5e3 | specifiche