Nuova release v. 1.26 di CPU-Z, applicazione compatta (262Kb) finalizzata all'identificazione del processore centrale e corredata da numerose funzionalitą che consentono la visualizzazione aggiuntiva dei parametri costruttivi del chip-set della motherboard, dei bus di sistema, della memoria RAM, della scheda video e del bios.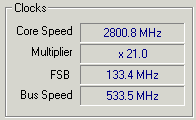 Le novitą introdotte in questa versione sono le seguenti:


Core voltage display on Pentium M CPUs.
A new CPU clock computation, that reduces CPU utilisation.
An improved support of Transmeta CPUs.
Several bugs fixed.


CPU-Z v. 1.26 supporta i Sistemi Operativi Microsoft Windows 98/ME/2000/XP.

Collegamenti