NVIDIA ha lanciato, mediante il comunicato stampa allegato di seguito, tre nuove soluzioni Quadro basate sull'architettura G80 nell'ambito dei controller grafici per applicazioni professionali. I nuovi prodotti dell'azienda statunitense sono siglati Quadro FX 4600, Quadro FX 5600 e NVIDIA Quadro Plex VCS Model IV. Il supporto di Vertex ePixel Programmability—Shader Model 4.0 rendere queste schede grafiche pienamente in grado di ottimizzare l'esecuzione delle moderne applicazioni in ambiente OpenGL e DirectX 10. La resa grafica può contare sulla funzionalità di Full-Scene AntialiAsing (FSAA), implementata con una struttura hardware che assicura l'impiego di frame buffer con capacità fino a 1.5Gb.
Le nuove Quadro sono già presenti nelle workstation realizzate dai System Builder HP, Dell, IBM e Sun; parimenti PNY Technologies, Leadtek e Elsa offrono versioni customizzate delle board. In accordo al produttore, la Quadro FX 4600 ha un MSRP (Manufacturer Suggested Retail Price, ndr) di $1995 mentre per la Quadro FX 5600 l'MSRP è pari a $2999.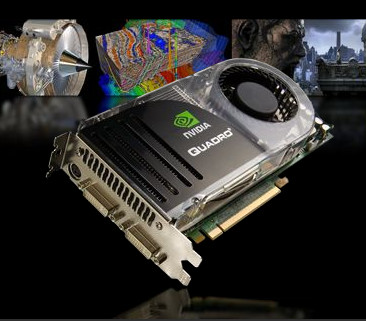 SANTA CLARA, CA—MARCH 5, 2007—NVIDIA Corporation (Nasdaq: NVDA), the worldwide leader in programmable graphics processor technologies, today unveiled a new line of professional graphics solutions: NVIDIA Quadro FX 4600, Quadro FX 5600, and NVIDIA Quadro Plex VCS Model IV. Armed with the largest increase in GPU power and functionality to date, these solutions are designed to help solve the world's most complex professional graphics challenges.
Tackling the extreme visualization challenges of the automotive styling and design, oil and gas exploration, medical imaging, visual simulation and training, scientific research, and advanced visual effects industries, these new Quadro solutions offer:
Next-Generation Vertex and Pixel Programmability—Shader Model 4.0 enables a higher level of performance and ultra-realistic effects for OpenGL and DirectX 10 professional applications
Largest Frame Buffers—Up to 1.5 GB frame buffers deliver throughput needed for interactive visualization and real-time processing of large textures and frames, enabling the superior quality and resolution for full-scene antialiasing (FSAA)
New Unified Architecture—Industry-first unified architecture capable of dynamically allocating compute, geometry, shading and pixel processing power for optimized GPU performance
GPU Computing for Visualization—Featuring NVIDIA CUDA technology, developers are, for the first time, able to tap into the high-performance computing power of Quadro to solve complex, visualization problems
"Today's cutting-edge gaming and film experiences are built around tremendous 3D imagery. Designing this content requires high quality real-time feedback regardless of complexity," said Bill Roberts, director of product management at Softimage Co. "NVIDIA's support of shader Model 4.0 combined with the real-time shader architecture of SOFTIMAGE|XSI allows game developers to quickly create advanced visual effects for the Microsoft Vista OS by providing the most accurate visual feedback. Also the massively scalable visual compute power provided by CUDA is what fuels modern software architectures like SOFTIMAGE|XSI and Face Robot, built on our unique Gigapolygon core, which are inherently designed to take advantage of parallel computing power."

Additional features in the new Quadro solutions include faster 3D texturing and massive 8Kx8K texture processing for better performance when zooming and panning of high-resolution images; NVIDIA SLI technology for improved graphics performance; dual dual-link display connectivity; and NVIDIA PureVideo technology for outstanding picture clarity, smooth video playback, and accurate color and precise image scaling for SD and HD content. NVIDIA GSync and HD SDI options are also offered.

"We bundle NVIDIA Quadro solutions with our kernel technology to accelerate simulations in the electromagnetic and energy markets," says Ryan Schneider, CTO for Acceleware Corp. "The CUDA SDK exposes an exciting new compute model that will help Acceleware to continue to make our products faster each year. This will also help our customers, including major cell phone and medical device designers, get their products to market faster, better and stronger."

NVIDIA Quadro solutions are widely available through leading OEMs such as HP, Dell, IBM, and Sun; leading workstation system integrators; and NVIDIA channel partners PNY Technologies (US and EMEA), Leadtek (APAC) and Elsa (Japan). For more information about the full lineup of NVIDIA professional solutions, please visit www.nvidia.com/quadro. The Quadro FX 4600 has a MSRP of $1995 and the Quadro FX 5600 has an MSRP of $2999.





Source: NVIDIA Press Release
Links


Tags: card | g80 | gpu | nvidia | quadro | video