BFG Technologies ha annunciato, mediante il comunicato stampa allegato di seguito, la realizzazione della scheda grafica GeForce 8800 GTS OC 320MB PCI Express (cfr. foto seguente). La card è fortemente caratterizzata dalla frequenza di clock della gpu di NVIDIA, che è pari a 550MHz mentre il valore standard per il chip è di 500MHz.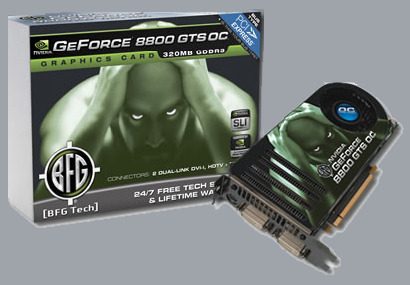 Al processore grafico operante in regime di overclock il costruttore ha abbinato 320Mb di memoria locale di tipo G-DDR3 a 1.6GHz. Inoltre questa GeForce, come tutte quelle della serie 8, supporta le API DirectX 10, oltre a Shader Model 4.0, per cui è a tutti gli effetti un prodotto realmente Vista Ready.
La GeForce 8800 GTS OC 320MB PCI Express di BFG è già sul mercato nordamericano ed europeo: costa circa $349.

– BFG Technologies, Inc., the leading North American and European NVIDIA supplier of advanced 3D graphics cards, motherboards, power supplies and other PC enthusiast products, announced today the BFG NVIDIA GeForce 8800 GTS OC 320MB PCI Express graphics card for a suggested retail price of $349 USD.
"With the onslaught of DirectX 10 gaming titles coming this year, users are looking for graphics cards that fully support the DirectX 10 API." said Dean Brady, Sr. Director of marketing at BFG Technologies. "With our new BFG NVIDIA GeForce 8800 GTS OC 320MB graphics card, gaming enthusiasts get full DirectX 10 support in Microsoft Windows Vista for the ultimate gaming experience."
Redefined Gaming Reality in Microsoft Windows Vista
Gaming will never be the same. DirectX 10 games will bring a new level of realism to the PC and the only way to fully experience them will be with a graphics card that supports the DirectX 10 API. Backed by the legendary BFG True Lifetime Warranty and free 24/7/365 Technical Support, the BFG NVIDIA GeForce 8800 GTS OC 320MB graphics card offers DirectX 10 compatibility and Microsoft Windows Vista support for a redefined gaming reality. Come game with us at www.bfggaming.com and see why we are The Gamer's Choice!
Features include:
Full Microsoft DirectX 10 Support: World's first DirectX 10 GPU with full Shader Model 4.0 support delivers unparalleled levels of graphics realism and film-quality effects.
Built for Microsoft Windows Vista: NVIDIA's fourth-generation GPU architecture built for Windows Vista gives users the best possible experience with the Windows Aero 3D graphical user interface.
NVIDIA Unified Architecture: Fully unified shader core dynamically allocates processing power to geometry, vertex, physics, or pixel shading operations, delivering up to 2x the gaming performance of prior generation GPUs.
OpenGL 2.0 Optimizations and Support: Ensures top-notch compatibility and performance for OpenGL applications.
NVIDIA Lumenex Engine: Delivers stunning image quality and floating point accuracy at ultra-fast frame rates.
NVIDIA PureVideo Technology: The combination of high-definition video decode acceleration and post-processing that delivers unprecedented picture clarity, smooth video, accurate color, and precise image scaling for movies and video.
NVIDIA Quantum Effects Technology: Advanced shader processors architected for physics computation enable a new level of physics effects to be simulated and rendered on the GPU – all while freeing the CPU to run the game engine and AI.
NVIDIA nView Multi-Display Technology: Advanced technology provides the ultimate viewing flexibility and control for multiple monitors.
NVIDIA ForceWare Unified Driver Architecture (UDA): Delivers a proven record of compatibility, reliability, and stability with the widest range of games and applications.
The BFG NVIDIA GeForce 8800 GTS OC 320MB is available today at leading etailers and retail outlets throughout North America and Europe.





Source: BFG Technologies Press Release
Links


Tags: bfg | core | geforce | geforce 8800 gts | overclocking