Intel ha annunciato ufficialmente i suoi primi processori quad-core: si tratta dei chip appartenenti alle famiglie Quad-Core Xeon 5300 per sistemi server/workstation e Core 2 Extreme per sistemi desktop, tutti caratterizzati dalla integrazione di quattro core sul wafer di silicio.
Paul Otellini, presidente e CEO di Intel, si è detto certo che i nuovi quad-core "aprono una nuova era nel mondo del computing" e che "le potenzialità delle nuove cpu aggiungono nuove prospettive in ambito scientifico, economico ed in quello multimediale".
La linea Quad-Core Xeon 5300 include quattro processori, con frequenza di clock per core a partire da 1.60GHz e fino a 2.66GHz mentre il valore della frequenza del FSB va da 1066MHz a 1333MHz. Essa si allargherà nel primo trimestre del 2007 in virtù dell'arrivo di quad-core dal minore consumo di potenza.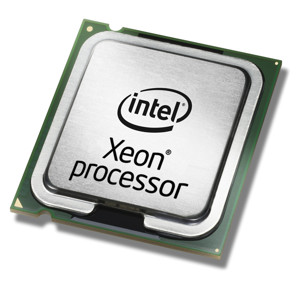 Quad-Core Xeon 5300
Le soluzioni per desktop di Intel si sono arricchite con il Core 2 Extreme QX6700 che, in accordo al produttore, è più veloce - di circa l'80% - del chip dual-core Core 2 Extreme X6800. Ciascun core del QX6700 opera a 2.66GHz mentre il valore della frequenza di FSB è pari a 1066MHz. Il costruttore ne attesta la compatibilità con il chip-set i975X Express. Nel primo semestre del prossimo anno arriveranno invece i primi processori quad-core per desktop commercializzati con il brand Core 2 Quad.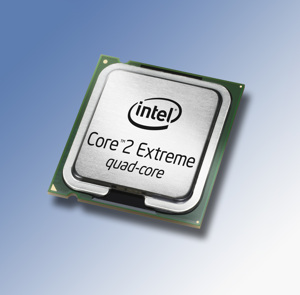 Intel Core2 Extreme
Segue una tabella riassuntiva con tutti i chip rilasciati dal chip-maker americano. Per ogni processore sono indicati la sigla commerciale, il clock dei core, l'FSB, la dimensione totale della cache di secondo livello, il TDP (Thermal Design Power) e il prezzo di riferimento.
| | |
| --- | --- |
| Quad-Core Intel Xeon processor X5355 2.66GHz 1333MHz 8MB 120W | $1172 |
| Quad-Core Intel Xeon processor E5345 2.33GHz 1333MHz 8MB 80W | $851 |
| Quad-Core Intel Xeon processor E5320 1.86GHz 1066MHz 8MB 80W | $690 |
| Quad-Core Intel Xeon processor E5310 1.60GHz 1066MHz 8MB 80W | $455 |
| Intel Core 2 Extreme quad-core processor QX6700 2.66GHz 1066MHz 8MB 130W | $999 |

SANTA CLARA, Calif., Nov. 14, 2006 – Intel Corporation today kicked off the computer industry's multi-core PC era by delivering four computing "brains" inside a single microprocessor with the introduction of the Quad-Core Intel Xeon 5300 and Intel Core2 Extreme quad-core processor families. These products deliver immense speed and responsiveness for general purpose servers and workstations and for digital media creation, high-end gaming and other market segments that crave absolute performance.
Intel began the transition to multi-core technology 4 years ago with Hyper-Threading Technology (HT Technology), followed by the introduction of the industry's first dual-core PC processors in April last year. Intel recently refreshed its entire product line by introducing over 40 new processors, including those based on the revolutionary Intel Core microarchitecture, a more powerful yet energy-efficient design.
"Today's announcement ushers in another new era in computing," said Paul Otellini, Intel's president and CEO. "The capabilities of quad-core microprocessors will bring new possibilities for science, entertainment and business. I'm incredibly proud of what Intel's employees have achieved with these new products."
Intel has made this next step in the computer's ongoing evolution as fast and easy as possible through continued investment in silicon process and manufacturing technology, innovative and tailored product design, and a myriad of software developer tools and programs.
Quad-Core Intel Xeon processor 5300 series
Extending the leadership established by the Dual-Core Intel Xeon 5100 series processors, the new Quad-Core Intel Xeon processor 5300 series sets new world records** on key industry standard benchmarks:
A Dell PowerEdge 2950 server running BEA JRockit JVM delivered a record breaking SPECjbb2005 result of 210,065** BOPS, as much as 61 percent better than the next result.
Using the SPECint_rate_base2000 benchmark, which measures integer throughput, Fujitsu-Siemens PRIMERGY TX300 S3 set a new world record with a score of 200**, up to 63 percent better than the previous record.
A HP ProLiant ML370 G5 server running TPC-C benchmark, which measures database performance, shattered the previous record by as much as 42 percent with a score of 240,737** tpmC at $1.85/tpmC.
An IBM System x3650 server running the LS-DYNA 3-vehicle-collision workload, a leading high-performance computing benchmark, set a new record for a single-node performance**.
In addition, OEMs have published record-breaking** results on SAP-SD 2-Tier**, SPECWeb 2005**, SPECfp _rate_base2000**, Fluent** and SPECapc 3dsmax Rendering** benchmarks. The chips deliver up to 2.5 times the performance of the fastest competing processor** for the ultimate in powerful, dense and energy-efficient general purpose servers.
Quad-core Intel Xeon Processor 5300 series servers provide more headroom for server virtualization than any other two-processor, standard, high-volume server platform. The new processors deliver up to 50 percent faster** performance within the same thermal envelope and at the same cost as the previous generation Dual-Core Intel Xeon processor 5100 series launched less than 5 months ago.
Four Intel Xeon processors are launching today at clock speeds ranging from 1.60GHz to 2.66GHz, with front side bus (FSB) speeds ranging from 1066MHz to 1333MHz, and thermal design power (TDP) of either 80 watts or a performance-optimized 120 watt option. In the first quarter next year, Intel will launch two more quad-core Xeon processors – a low-voltage version for ultra-dense deployments with a TDP of only 50 watts and a processor designed for single-socket workstations and servers.
Intel Core 2 Extreme quad-core processor QX6700
The world's best desktop processor for multimedia applications, the Intel Core 2 Extreme quad-core processor QX6700 is up to 80 percent faster** than the company's current Intel Core 2 Extreme Processor X6800.
This is the world's first quad-core desktop processor available for unmatched, highly threaded performance. Ideal for today's games with incredible performance for tomorrow's highly threaded games; the Intel Core 2 Extreme quad-core processor QX6700 is available at 2.66GHz with a 1066MHz FSB. The processor runs on Intel's existing 975X Express chipset family.
The company plans to offer a mainstream quad-core processor starting in the first quarter next year under the Intel Core 2 Quad processor brand name. The processor will be an ideal choice for processor-intensive, highly threaded programs such as entertainment, gaming and multimedia activities.
Pricing and Availability
| | |
| --- | --- |
| Quad-Core Intel Xeon processor X5355 2.66GHz 1333MHz 8MB 120W | $1172 |
| Quad-Core Intel Xeon processor E5345 2.33GHz 1333MHz 8MB 80W | $851 |
| Quad-Core Intel Xeon processor E5320 1.86GHz 1066MHz 8MB 80W | $690 |
| Quad-Core Intel Xeon processor E5310 1.60GHz 1066MHz 8MB 80W | $455 |
| Intel Core 2 Extreme quad-core processor QX6700 2.66GHz 1066MHz 8MB 130W | $999 |




Source: Intel Press Release
Links


Tags: chip | cpu | intel | quad-core