Creative Technology ha annunciato la realizzazione del player ZEN V Plus (cfr. foto seguente). Il dispositivo è in grado di riprodurre i file audio in formato MP3, WMA, IMA ADPCM, WMA DRM, i video in TVF e di visualizzare le immagini in jpeg.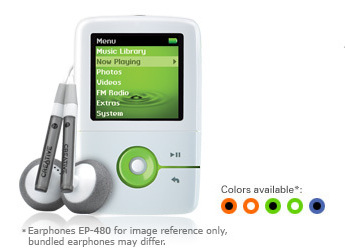 Creative ZEN V Plus integra 8Gb di memoria permanente, un sintonizzatore FM ed un display in tecnologia Organic Light Emitting Device (OLED). Sarà disponibile a Ottobre nei negozi di Singapore, poi in tutto il mondo. Il prezzo suggerito dal produttore è equivalente a circa €215.



SINGAPORE - September 29, 2006 - Creative Technology Ltd. (NASDAQ: CREAF), a worldwide leader in digital entertainment products, today introduced the Creative ZEN V Plus MP3, photo and video player with built-in FM radio in a higher capacity of 8GB. Retaining its amazingly small and lightweight features, the Creative ZEN V Plus 8GB lets you enjoy even more music, photos and video at your fingertips.
Available in glossy black with a new colour accent of red, the Creative ZEN V Plus 8GB is ergonomically designed with great curves and contours. It is so tiny that it tucks away perfectly inside the coin pocket of your jeans and so lightweight that you will almost forget it is there except for its phenomenal sound quality. Its 1.5-inch color OLED screen displays vibrant and stunning digital photos, video and colour menus.
The Creative ZEN V Plus includes all of the following features:
The smooth contours and tiny size of the Creative ZEN V Plus enable it to fit naturally in your fingertips or to tuck away easily in a small pocket or purse and it looks as great as it feels.
Special coating on the entire player to help prevent scratching.
Vibrant 1.5-inch OLED screen for stunning video, photos and album art.
Music Subscription Support - from major services such as Yahoo! Music Unlimited, Urge, Napster To Go and Rhapsody To Go, support for Audible audio books and payper-download services including Soundbuzz.
Built-in FM radio with 32 station presets.
A voice recorder for capturing notes or lectures.
Syncs with Microsoft Outlook - includes a built-in organizer with Calendar, Contacts and Tasks.
Direct CD Recording - with line-in connection and a Sync Track button to separate different songs recorded from an entire CD.
Incorporates the most popular "ZEN Patent" user interface - for intuitively accessing
music, photos, video and colour menus and displaying album art.

Pricing and Availability
The Creative ZEN V Plus 8GB will be available in retail stores in Singapore in October 2006 at a suggested retail price of S$429.00.

In addition, a limited edition of the Creative ZEN V Plus 8GB in glossy black with blue accent at S$429.00 is now available exclusively for online sale at sg.store.creative.com.





Source: Creative Press Release
Links


Tags: audio | creative | creative zen | player | video